Zim, SA authorities to meet over match-fixing scandal
By Robson Sharuko
More graphic details of LIMPOPOGATE, the match-fixing scandal that exploded last week, are expected to emerge today after an emergency high-powered joint meeting of Zimbabwean and South African government and football authorities in Cape Town.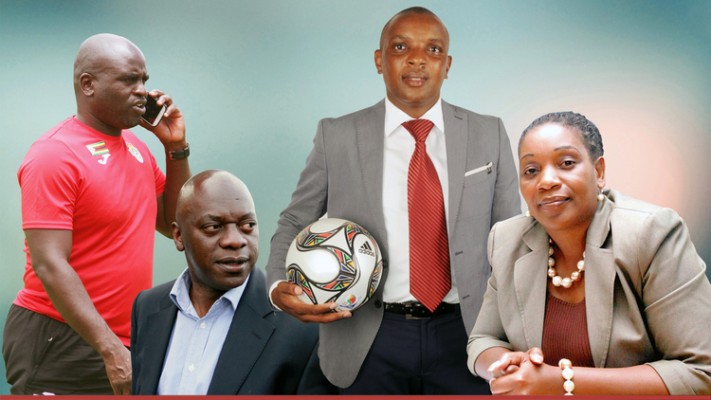 The meeting has been convened at the request of the South Africans who sent the South African Football Association chief of security, Mlungisi Ncame, to Harare last week to collect the evidence which prompted ZIFA to announce they had busted a match-fixing syndicate that was manipulating Super Diski games.
The cartel, according to ZIFA, had set its eyes on fixing the high-profile 2017 Nations Cup back-to-back qualifiers between Zimbabwe and Swaziland, set for the Easter weekend, with the Warriors in prime position to enhance their chances of qualifying for the continent's biggest football showcase.
Singaporean national Chann Sankaran, who was jailed for five years in Britain for attempting to fix matches in the Conference League and was only released from prison in December last year, was unmasked this week as being a leading player in the match-fixing scam.
A whistleblower, who claims he used to work for the cartel from January this year, has been a key player in the unfolding drama after supplying ZIFA with ammunition which the association claim is credible enough to enable them to bring the suspects to book.
Police announced on Monday they were looking at the file presented by ZIFA, who filed a report last week, while the whistleblower also provided his warned-and-cautioned statement at the weekend.
Today's meeting is likely to feature the Ministers of Sport in Zimbabwe and South Africa, Makhosini Hlongwane and Fikile Mbalula, the two countries' football leaders — Philip Chiyangwa and Danny Jordaan — their legal representatives and some security chiefs who have been looking at the dossier presented by ZIFA and other events surrounding the saga.
ZIFA chief executive, Jonathan Mashingaidze and the chairman of the ZIFA Constitutional Review Committee, Harare lawyer Itayi Ndudzo, are expected to attend the meeting.
Sources said yesterday the South African authorities have been reviewing the information that they received from ZIFA and believe the two organisations must now exchange notes, and work hand-in-hand, to bring the suspects to book and ensure that the integrity of the game was not further damaged.
"Obviously, the South Africans have more arsenal, when it comes to dealing with such issues, because they actually have a dedicated unit to fight match manipulation within the Hawks and after they looked at the documents that we provided them, they felt there was need for the two countries to come together and fight this vice and that is a step in the right direction," the sources said.
"If this was all a wild goose chase, the South Africans would have written back to say that, after a review of the documents that we gave them, they believe there is no basis for them to pursue the case and that would have complicated issues.
"But they are very clear, in their invitation, that they feel there is need for a joint effort by the two countries to confront and defeat this animal and maybe, who knows, they might have picked more intelligence over that side and all that will be discussed at the meeting.
"A press conference is set to be addressed by the two parties and the South Africans have said, in their letter, that they value the work that we are doing to ensure that we destroy this cancer because we cannot let football lose to these gangsters."
The indaba comes against the backdrop of a damning verdict passed by Terry Steans, a British investigator who once worked for FIFA's crack team that battled match-fixing around the globe, including Bafana Bafana's 2010 World Cup warm-up matches, who says South African football remains trapped in a quagmire of corruption.
Steans, whose official FIFA report on Bafana Bafana's 2010 World Cup warm-up matches has so far claimed four South African football leaders, including former SAFA chief executive Leslie Sedibe, who have been banned from football, said another Singaporean — serial match-fixing wizard Wilson Raj Perumal — continues to fix matches in South Africa.
"Corruption in South African football is endemic. It's not alone, it's a global problem," Steans said in recent correspondence gleaned by The Herald.
"What South Africa have never done is bring anyone to justice for the 2010 fixes and yet WP (Wilson Perumal) is still out there and still fixing."
On Monday, Sedibe appeared to corroborate that when he told a media conference, soon after learning that he had been handed a five-year suspension, that SAFA lawyers instructed him to destroy all communication in his possession related to match-fixing in what was tantamount to a cover-up operation.
Sedibe read a letter from SAFA instructing him to keep certain information confidential and to delete certain sensitive documents.
"Last November, I wrote a letter to the Public Protector to investigate allegations of match-fixing, but that office declined and referred me to the SAPS (South African Police Service)," said Sedibe.
"I have also been investigated by the NPA where they found that there has been no evidence of match-fixing.
"I approached Police Commissioner Riah Phiyega and was told the NPA had refused to prosecute based on insufficient evidence.
"This begs the question about why SAFA has not declared that police had already investigated the matter and found no evidence. SAFA must give the media a copy of the letter saying there was no evidence of match-fixing on my part.
"On the 3rd of November, 2014 I was notified by FIFA that I would be subject to preliminary investigations and was implicated in match-fixing.
"I said I could not respond without the help of SAFA, but they refused. I requested access to documents in order to respond, which never happened.
"SAFA is withholding information that is critical for me to respond. I even used the Promotion of Access to Information Act to make SAFA allow access to the documents.
"There is a God in heaven. The art of justice takes time, but it always bends. If I spoke about $10 million I would have been a traitor. Allegations of $10 million African Diaspora Fund came as no surprise to me. The truth will come out, watch this space."
ZIFA have already suspended their board member, Edzai Kasinauyo, accusing him for being part of that cartel, axed Warriors' assistant coach Nation Dube and ordered that he be replaced by his employers, Premier Soccer League club Hwange and fingered their former chief executive, Henrietta Rushwaya, in the saga.
Former Warriors' coach Ian Gorowa has also been sucked in the saga.
The suspects deny any wrongdoing with Rushwaya saying that she only met the match-fixers as part of an elaborate undercover operation to expose the corruption that was destroying the integrity of South African football. The Herald