By Godknows Matarutse
HARARE – CAPS United striker Roderick Mutuma yesterday said he is packing his bags to seek greener pastures in what could be the beginning of a mass exodus at the troubled club.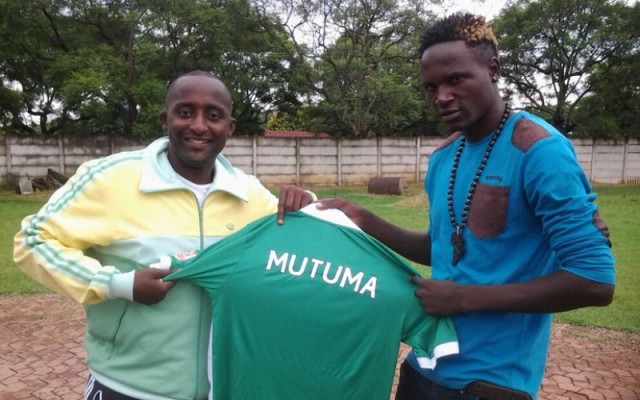 Mutuma said he has stopped training with the team, citing unpaid salaries and bonuses as the driving force behind his decision.
The former Dynamos forward says he was no longer prepared to play for Makepekepe because of what he termed as "bad treatment" from the club.
The Green Machine players are owed various amounts in salaries, winning bonuses and signing-on fees as the financial problems at the club have hit alarming levels.
Yesterday Mutuma, who was the club's marquee signing at the start of the year, and other senior players did not attended the team's training session while the few who pitched up at the Reserve Bank Sports Club staged a sit in.
"I can't keep on like this. It's better to wait until the next window period and look for a new team," he told the Daily News yesterday.
"From now until the next window period I will be working on my own. I called the CEO (Joel Makuvire) telling him I want out and he said we should sit down and talk.
"But that's what they have been telling us all along. The situation is getting worse every day. We can't even concentrate on our game. We are lucky not to lose our matches.
Mutuma, who made his name after signing for Dynamos in the 2011 season from lower division side Sporting Manhenga, described the current situation as dire.
"I have never seen anything like this ever since I started playing football," he said. "I once played in Division Two and there is nothing like that.
"We are suffering at CAPS and what makes matters worse is that the bosses don't seem to care about our welfare. The environment is no longer conducive for football."
The Mvuma-born striker, who has scored two goals for the club when he netted a brace in the win over Whawha in their first game of the season, is now option to sell some personal belongings in order to pay his rentals.
"I am thinking of selling my car so that I could pay for my rentals. I am the bread winner at home and my family is suffering now," he said.
"This is not my home town and it complicates everything for me. I'm tired of their lies and everything. I have stopped going to training with immediate effect."
Player strikes and revolts have been the order of the day at the Harare giants with creditors lining up on the club's door armed with writs of execution to attach property.
During their last match against Buffaloes, United players arrived in batches after some of the players refused to even make the trip until they were paid their outstanding salaries.
After a bright start to the season in which they won their opening two matches, United's progress came to a screeching halt in that unfulfilled fixture against How Mine.
Earlier this year, CAPS were embroiled in a messy "divorce" with their principal sponsor Zing, a South African mobile technology firm.
Zing pulled the plug on the arrangement citing a lack of professionalism with the club's CEO pointed as the main culprit.
Twine Phiri, who is the chairman of the Castle Lager Premier Soccer League (PSL), and it is under his leadership that the league must strive to reach world class standards.
Most of the players who spoke to Daily News yesterday blamed Phiri for failing to address the real issues while trying to intimidate them.
All these issues point to a club that is spiralling out of control while the owner and administrators continue to act as if everything is in order. Daily News