BULAWAYO – Plucked from the obscurity of doing menial jobs in South Africa for a stint in the unheralded but challenging Zambian Premier Soccer League, Zimbabwe's first ever football export to that country Zimiseleni Moyo is back home in Bulawayo, but has set his sights elsewhere.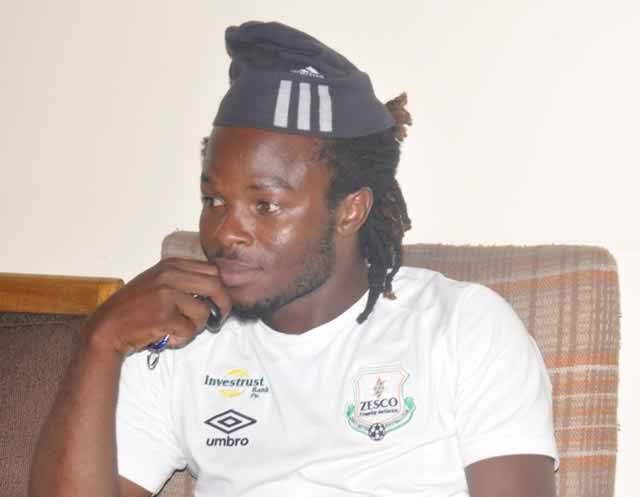 The former Zesco United defender says he is out seeking new challenges after spending five years at the reigning Zambian Premiership champions.
However, the former Railstars defender was quick to point out that his next port of call was certainly not at any team in the local Castle Lager Premier Soccer League.
Not even the lure of playing in the African Champions' League was enticing enough for Moyo, a former youth international, to stay at Zesco, a team he helped lift the league title last year, for a ticket to the continental Caf club competition.
Moyo, who paid a courtesy call to the Sunday News newsroom on Friday, said he had received offers from teams in South Africa, Angola and Mozambique and was now working with his handlers as they weighed the best options.
"I believe I have done my time in Zambia and will always be grateful to Zesco after they took me from the football wilderness when I was in South Africa and helped me revive my football career,'' said Moyo.
"It was five years well spent because I was treated well by the club right from when I first signed for them until now. The administration, coaches and fans were all welcoming and never made me feel that I was a foreigner. I got the club's blessings to leave and they understood my reasons for leaving even though they had indicated they still wanted me.
"At the moment I do not know where I am heading to but I will take the best deal on offer. I don't want to be in a comfort zone hence the search for a new challenge," he said.
Moyo moved to Zambia in 2010 after being spotted playing in money games at a park in Hillbrow, South Africa.
He won the league and Barclays Cup in his first year at Zesco, but was saddened when they failed to make headway in the Caf Champions League in 2011, when his team failed to progress beyond the group stages.
He said he would have loved to have atoned for that failure this year.
Honours for Moyo at Zesco include lifting the league and cup double in 2010 and last year.
The 29-year-old said the northern neighbours shared similar football traits with Zimbabwe although their style of play was more tactically inclined.
"I wouldn't say there is much difference in the game in the two countries but in Zambia there is more focus on tactics and emerging coaches get attachments with the first teams before being assigned to junior teams. They get to understudy top coaches and I believe this helps them a lot," said Moyo, adding that he believed there was more money in the Zambian game than locally.
He said playing for a local team was not on his mind at the moment but might consider it in the future.
Moyo, who also had a stint at now defunct Motor Action, said with his family now staying in Bulawayo, there was a possibility that he would come and play locally before retiring.
Moyo said he had been tempted to take up Zambian citizenship after then Chipolopolo coach Herve Renard offered him a place in that country's national team, but felt he could not turn his back on Zimbabwe.
Since moving to Zambia and having a high profile career there, Moyo has been ignored by successive national team coaches, who did not bother to give him a chance to prove himself.
"I was pained by the coaches' failure to call me up for national team duty. I once represented the nation and I know the pride of wearing one's national colours and it is something that I have yearned for.
"However, I cannot live with regrets, I guess I was just unlucky but I think another problem was the constant change of coaches at the helm of the national team as it could have been one of the reasons why I was never called up," he said.
Moyo said despite facing language difficulties at the beginning of his career in the copper-rich country, he managed to master Zambia's two dominant languages, Bemba and Nyanja although it resulted in him losing his fluency in SiNdebele and Shona.
The defender started his football career with the Pumula East Rovers juniors rising through the ranks until he moved to Railstars Under-17 where he played under Ali "Baba" Dube and then went on to feature for the senior team in 2005.
In 2007, he moved to Motor Action but a few months later left for South Africa where he did odd jobs before lady luck smiled on him and he was snapped up by Zesco.
He is married to his childhood sweetheart Charmaine and they have two children.
Source: Sunday News