NewsDay slapped with US$750k lawsuit
By Fidelis Munyoro
Harare lawyer and businessman Mr Wilson Manase is demanding US$750 000 from Alpha Media Holdings, publishers of NewsDay, for alleged defamation over an article linking him to the Air Zimbabwe insurance scam.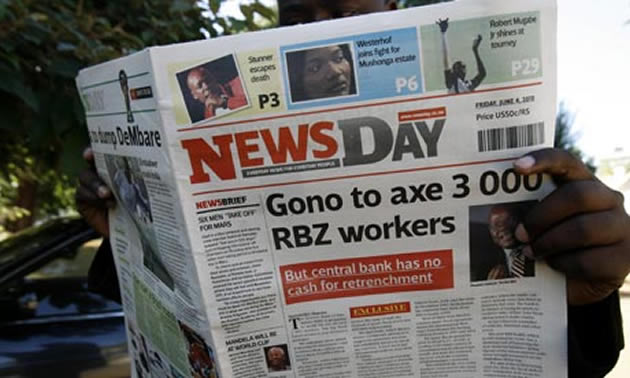 Mr Obert Mawadze of Manase and Manase law firm wrote to Alpha Media demanding payment for defamatory damages plus a retraction. He gave the newspaper group a seven-day ultimatum to act on the letter, dated March 19 2014.
The article complained of was published in the NewsDay edition of February 17 under the title: "Could this intricate web be at the heart of Air Zim fight".
The article was accompanied by a diagram reportedly illustrating the web.
"After reading the article one is left thinking that a viewer from the terraces would conclude that our client was part of a corrupt web which wanted to milk the airline," said Mr Mawadze.
"Alternatively, a bystander could conclude that people mentioned in the article had orchestrated the arrest of 'corrupt' individuals at Air Zimbabwe for no apparent reason, but in a calculated attempt to remove them and have them out of way for their own benefit since they were impediments to their vested interests."
Mr Mawadze said the fact Mr Wellington Pasipanodya, a partner at Manase and Manase law firm, was selected by Air Zim to chair disciplinary cases of workers at the airline could have infuriated people concerned to an extent of fabricating a story to tarnish those who have nothing to do with the airline.
Mr Mawadze said the article by NewsDay reporter Paidamoyo Muzulu was published with the intention to tarnish the image of Mr Manase as corrupt, unethical and greedy in businesses he has no connection with.
Muzulu, said the lawyer, published the article without any care of the truth as he never sought to verify his facts with Mr Manase. Mr Mawadze said there was no need to include Metbank, Manase and Manase Legal Practitioners and Zimbabwe Cricket in the article.
Last week, Metropolitan Bank chief executive Mr Ozias Bvute filed a US$300 000 lawsuit against Alpha Media Holdings for defamation in a series of articles he says injured his reputation. The Herald