By Arron Nyamayaro
HARARE – There was drama at Tichagarika Shopping Centre in Glen View on Friday when a man nearly lost his groceries to a 'small house'.
Paul Kuvenga, 36, was only helped by a crowd to apprehend his small house Tendai Masunga, 19, who snatched his family's groceries before taking to his heels.
Tendai is alleged to have spotted Paul leaving a supermarket with his family groceries and she ambushed him at the vegetable market where Paul goes through to his house and snatched the groceries.
Paul, a truck driver, has a 7 month old child with Tendai and people thought she was a thief until she narrated her story claiming that Paul has been neglecting her and the child. When H-Metro arrived sympathisers were comforting Paul who seemed worried about what his legitimate wife would say on hearing this.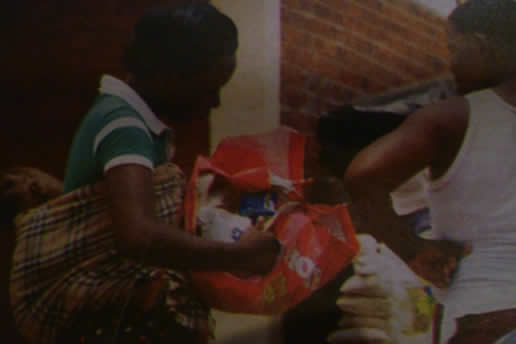 It emerged that this was the second time Paul lost groceries to Tendai.
"My wife will hardly believe this because this is her second time to snatch groceries from me and I do not have any money to replace the groceries," said Paul.
"She has my child and I have failed to support them for the past two months because I had pressing programmes at home. She once snatched the groceries when I was with my wife and this is how she came to know that I have a child with her.
"Some of the groceries were bought using my wife's money; she wanted to sell the biscuits in the box and that box of tablets as she is a vendor," said Paul pleading with Tendai to hand over the biscuits and tablets which belonged to his wife.
Women who gathered at the scene called Paul names saying he had paid for fathering children he failed to support.
"Vana havasi uswa hwemusango hunomera nemvura yedenga they need support and you must stop abusing women by such action," one vegetable vendor was heard saying.
Tendai said Paul had been neglecting her for some time which led her to track him to the shopping centre.
"I am sure this is the language Pauls understands for he never gives me support in looking after his daughter," said Tendai.
"He visited me daily when I was pregnant but now I have his baby he is neglecting me so I will continue snatching groceries from him whenever I see him.
"Last time the bag was full of cigarettes which his wife sells but this time I am lucky there is food and these biscuits and tablets I am going to sell them to other vendors to get money for myself and his child.
"This will lead him to sit down with his wife to find a way forward in supporting his child if they do not want me to join their family," said Tendai.
When H-Metro left the scene Tendai was already selling the biscuits and tablets to vendors at Tichagarika shopping centre while Paul was still in shock as he milled around pondering the next move. H Metro