Six female shoplifters get temporary Xmas reprieve
By Leonard Ncube
What a close shave!
A group of six female shoplifters heaved a sigh of temporary relief when they walked out of the courtroom yesterday after being given a chance to celebrate Christmas day out of custody.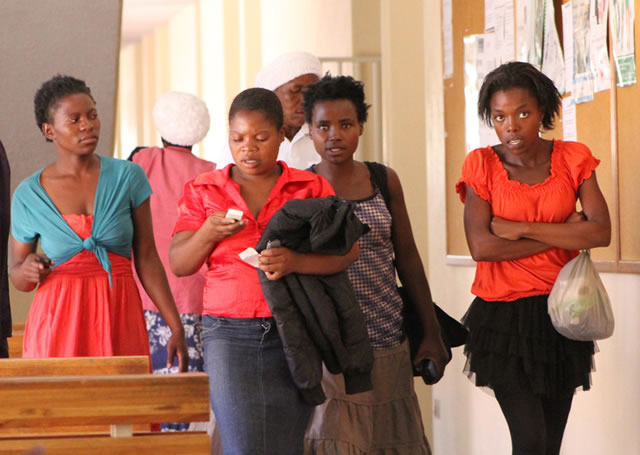 Memory Dube, 27, Thandiwe Mpofu, 19, Tutsirai Ncube, 23, Samantha Chimombe 20, Siphiwe Sibanda, 23 and Cynthia Moyo 23 are part of a suspected 12-member shoplifting syndicate that pounced on Choppies Son Mart in Nkulumane 11 on Sunday.
The were released on their own cognisance. While thousands of Zimbabweans gathered in Bulawayo to commemorate Unity Day, the syndicate allegedly teamed up in their own not-so-special way to steal from the supermarket.
Dube, of Nkulumane 5, Mpofu of New Lobengula, Ncube of Old Pumula, Chimombe of Pumula South, Sibanda of Nguboyenja and Moyo of Pelandaba told police investigators that they wanted Christmas goodies for their families.
Six other alleged accomplices are reportedly on the run after escaping arrest on the scene. The magistrate, Willard Maphios Moyo heard how on Sunday the syndicate teamed up to execute a botched theft spree at about 3pm.
"Your worship, where will we be coming from?" inquired Dube in court, seeking to know whether she and her alleged accomplices had been remanded in custody or out.
This was after the magistrate had told them to return to court on Friday.
"Officers from prison will advise you," responded the magistrate.
Dube, Mpofu, Ncube, Chimombe, Sibanda and Moyo indicated that they would plead guilty to shoplifting. To show that the move was well calculated, the State alleges, the 12 boarded a kombi from an unnamed place and alighted in front of the supermarket in Nkulumane 11.
The kombi allegedly waited for them to execute their mission.
Prosecuting, Tatenda Dakwa narrated how the alleged syndicate teamed up and planned to go on a shoplifting spree. It is alleged that each of the 12 took turns to get into the shop and allegedly steal an assortment of goods, which they would stash in their bags.
Each of them allegedly went into the shop twice and stole different kinds of goods on both occasions. The alleged syndicate was spotted loading the loot into a kombi.
Moyo was arrested while still in the shop while her five accomplices, are admitting to the charge following their arrest at the kombi. Dube allegedly stole groceries worth $44.36, Mpofu ($30.77), Ncube ($25.96), Chimombe ($20.70 and Sibanda was allegedly caught with $20.27 worth of goods.
They are not admitting to stealing some of the groceries, which were allegedly stolen by Moyo. The groceries that were recovered and included bath soaps, a floor brush, juices, cigarettes, fish, and several other items and had a combined value of $389.84. The Chronicle