Angry depositors storm Allied bank in Harare
By Tichaona Sibanda

Anti-riot police used teargas to quell disturbances in central Harare on Monday when angry depositors stormed the Allied Bank, demanding their cash, as the liquidity crunch deepens ahead of the festive season.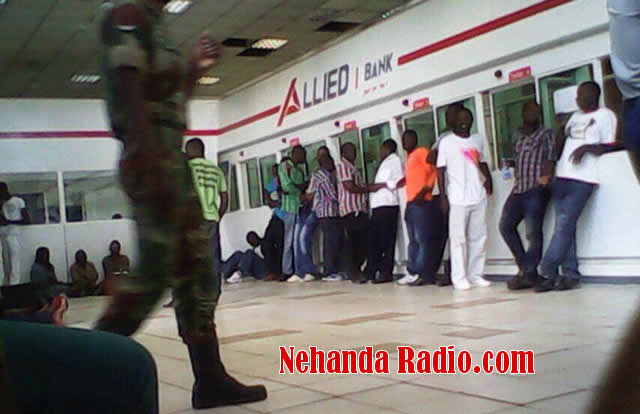 The mob forced their way into the bank when it remained closed way past its opening time.
But the bank, owned by Transport Minister Obert Mpofu, had no cash to dispense worsening the already tense situation for the depositors who had been waiting over a week to withdraw their salaries.
Our correspondent Simon Muchemwa said at the height of the skirmishes, the depositors forced their way into bank and manhandled the branch manager. The bank is situated at the corner of Jason Moyo and Third street, opposite the 5 star Meikles hotel.
'The depositors shattered windows at the bank and beat up the manager. We have been told most of the depositors are civil servants who have been unable to access their money for days,' Muchemwa said.
The bank had to summon the riot police who dispersed the crowd by using tear gas. The attack on Allied Bank follows a similar incident at the Metropolitan Bank's Mutare branch, which required police intervention to rescue workers. The manager there fled the office and sought refuge at the police station.
In Bulawayo, a Metropolitan Bank in the city had its glass broken in a stampede by depositors jostling to enter the branch. Our correspondent Lionel Saungweme said long queues formed outside most banks at people struggled to get their cash.
When he visited the Metropolitan branch, to take photos of the damaged windows, Saungweme was arrested by plain clothes policemen who forced him inside the bank where the manager made him delete the photos.
'I was just doing my job when I took photos of the damage at the bank before I was accosted by two police officers in civil clothes. They took me inside the bank and only released me after I showed them my accreditation card, but after they had asked me to delete the pictures I took,' he said.
Liquidity conditions have worsened in the last month and many banks are now limiting cash withdrawals. While commercial banks like Stanbic and Barclays have not yet introduced these measures, indigenous owned banks have resorted to withdrawal limits for their clients due to liquidity constraints. SW Radio Africa