By Staff Reporter
President Robert Mugabe fresh from a controversial re-election has described the late nationalist Enos Nkala as a great, staunch, unyielding and dependable liberation war fighter whose death is a great loss to the nation.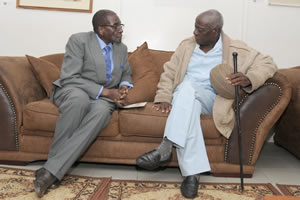 The 81 year old Nkala, a founding member of Zanu PF died at a private hospital in Harare yesterday morning from a complicated ailment that saw his heart and kidneys failing. Family spokesperson, Herbert Nkala, said his uncle had been admitted to the clinic for the past 10 days.
Speaking to journalists Mugabe said he visited Cde Nkala in hospital on Tuesday night and little did he know that he was bidding him farewell.
'"I said 'Enos, Enos, ndauya' and he opened his eyes and seemed to acknowledge my presence. I inquired from the doctor and he said his condition was very complicated.
"His heart was weak and no longer pumping blood in the normal way. There was a collapse of both the heart and the kidneys. I did not know that my visit to him will be a kind of farewell," Mugabe said.
"He is a great fighter for our liberation. Very, very staunch fighter, unyielding, dependable, and a good fighter. Well, perhaps at his age, born in the 1930s, his body was bound to give in.
"I want to say to his family, his wife and children that I am very, very, sorry at their loss which is our loss together. The work that their husband and father has done was not in vain."
Mugabe narrated the key roles played by Nkala in the formation of the National Democratic Party and later Zanu, political organisations that executed the liberation struggle.
"We will be discussing what to do with him. I am sure he will be buried at the National Heroes Acre. If a person like him is not buried there, then no one else qualifies.
"We want to see him well buried, well honoured. It is a very sad loss. I will miss him as a great friend. It is a very sad loss to all of us in Zanu-PF. We were shocked by his death," Mugabe said.
In an October 2011 interview Nkala claimed to have been writing a 'controversial' book which he said chronicles, "all that has happened in ZANU PF since its formation, including the Gukurahundi Massacres and the assassinations of several high profile politicians using car accidents."
He revealed that the book blamed the death of liberation war heroes Josiah Tongogara and Herbert Chitepo and others on Robert Mugabe. All he said was that the book will be published when he dies, in the meantime he was, 'doing a lot of research and authoring."