By Itai Mushekwe
Zimbabwe's military intelligence agencies, the Military Intelligence Directorate (MID) and Military Intelligence Unit (MIU), are courting Russian expertise and arms, as a hardline confederacy of State security generals is all but preparing to install its own cherry-picked successor to replace President Robert Mugabe, by as early as 2014.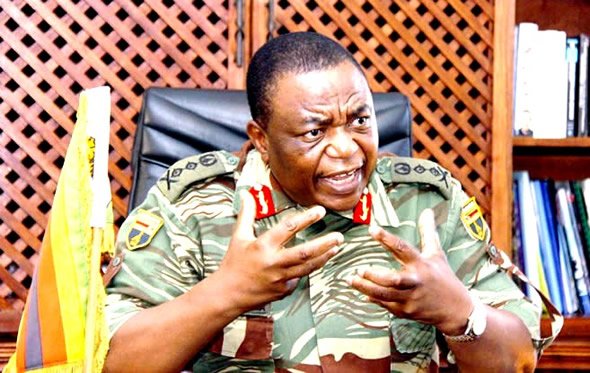 As first reported by Nehanda Radio, on May 7 2013, Zimbabwe Defence Forces (ZDF) commander, Constantine Chiwenga has reportedly seized significant executive authority from Mugabe, especially the all-important office of ZDF Commander in Chief, owing to the veteran leader's growing frailty.
Mugabe is said to have now become Commander in Chief, only on paper while Chiwenga has allegedly usurped the reigns of the office, because the Zanu PF leader has become almost incapacitated to meet the demands of being the military's chief commander.
It has also now emerged, that the MID and MIU are all essential cogs of the country's shadowy military industrial complex, accused of literally making a political putsch in the process army sources claim.
The military industrial complex, is thought to be the brainchild of top military and national intelligence officials, determined to torpedo Vice President Joice Mujuru, from crossing the finish line in succeeding Mugabe as Head of State.
The cabal of military hawks is reportedly in favour of defence minister, Emmerson Mnangagwa, to become Zimbabwe's second republic president, and through the military industrial complex, has started purging the Central Intelligence Organisation (CIO) top brass in favour of operatives speaking the same language, our sources have disclosed.
A top CIO director for internal affairs, Elias Kanengoni, died in a mysterious alleged poisoning last week and has since been declared a "national hero".
Kanengoni's alleged poisoning is reminiscent, of former high profile Russian spy, Alexander Litvinenko, who was murdered using the lethal radioactive polonium- 210 poison. Litvinenko died on 23 November 2006, and his killers have not been apprehended since.
Moscow
According to RIA Novosti, one of Russia's largest news agencies, defence officials and military experts from Zimbabwe, after all the resistance on security sector reforms, attended an International Conference on European security, in Moscow on May 24 2013.
"Defense officials and military experts from Armenia Germany, Hungary, Latvia, Norway, South Africa, Sweden, Turkmenistan, Ukraine, the United States and Zimbabwe were shown a training center, a shooting range and the barracks, among other facilities at the Taman Division in Alabino," reported the news agency.
"The visit ended the two-day Military and Political Aspects of European Security conference in Moscow which opened on Thursday. During the first day, the participants exchanged views on the current state of and prospects for European security.
In an opening address to participants read by Presidential Chief of Staff Sergei Ivanov, President Putin expressed his confidence that, despite differences over issues such as missile defense, the international community is in a good position to build and strengthen collective defense and security strategies."
The swap
"The Zimbabwe delegation took advantage of this International Conference to follow up, on many projects and deals being made with Russia apart from seeking Moscow's military intelligence notebook notes," a ministry of defence official working close to the Chief of Staff said.
"It was during the side-lines of the Moscow meeting that our representatives, managed to push for closer and stronger military cooperation with President Putin's government."
Russian media last year confirmed a deal involving, Russian Technologies, a State corporation and the Zimbabwe military. Under the deal, Russia is looking at supplying military helicopters to Harare, in exchange to buying the country's platinum deposits, which are reputed to be the world's second largest in reserves.
"Russian Technologies has already secured preliminary support from Zimbabwe's official representatives during its visit to the country in April (2012)," reported the Kommersant Business Daily adding the local authorities were interested in the supply of Russian arms, in particular military helicopters.
"The issue being discussed is the transfer to Russian Technologies of the rights to develop the deposit in exchange for the supply of helicopters". A total capital investment outlay in platinum reserves discovered in Darwendale, needs an estimated US$2.8 billion to develop until 2055, a sum Moscow is being tempted to part away with.
Meanwhile, the State mouthpiece, The Herald has hinted on the visit to Zimbabwe by Nikolay Varenko, a Russian billionaire who has set his sights on acquiring food and beverages manufacture, Cairns Holdings.
The Russian is reported to be visiting Harare next week, for talks in making a 100 percent stake takeover of Cairns, with a wallet of up to US$30 million. Varenko is among a sheaf of Russian moguls, trooping into the country for Zanu PF facilitated and aligned business opportunities, where they aim to use local fronts to evade the controversial indigenisation policy, which calls for a wholesale 51 percent equity grab by Zimbabweans across all economic sectors.
Mengistu Haile Mariam
Central to the military intelligence overtures at mooted coup power, is former Ethiopian leader, Mengistu Haile Mariam. Nehanda Radio understands, the disposed dictator who fled Addis Ababa in 1991 for Zimbabwe as Mugabe's asylum guest, at the conclusion of the Ethiopian Civil War, fears being indicted for the death of more than 2 million Ethiopians who perished in the civil war.
For this reason, the "Butcher of Ethiopia" as he is affectionately known, Mengistu is doing all in his power to "assist" the military junta in keeping PM Morgan Tsvangirai away from Munhumutapa Building.
The former Ethiopian president, who is holed up in Harare's affluent Gunhill suburb, despite a court verdict that has found him guilty of genocide in abstentia, is believed to be doing political consultancy for the military, so as to enable a bloodless coup should Mugabe be defeated in this year's crucial presidential election.
There are also reports that, the military cabal wants Mugabe himself to hand them power should he win the polls, so they can "install Mnangagwa", and intricate plots and counter plots have been drawn to "kick away" anyone standing in their way.