BULAWAYO – Zanu PF founding member Enos Nkala was admitted to a private hospital on Wednesday evening after suffering kidney and heart-related complications.
President Robert Mugabe on Friday spoke to Nkala over a mobile phone during a visit by Mines and Mining Development Minister Obert Mpofu.
Nkala could be heard chuckling and addressing Mugabe as "Sir".  In the brief conversation, an elated Nkala told the President that he would "pull out" as God would hear President Mugabe's prayers.
"I know God will hear you. A prayer from you is more important than any other prayer," he said.  Nkala, who could not hide his joy, also said to President Mugabe: "It is wonderful to hear your voice."
He was also full of praise for Mpofu, who facilitated the conversation. "Obert, I don't know what to do. God knows better. Ukuthi ngike ngizwe inkosi ikhuluma," he said. Mpofu told Nkala that it was important that he visits him in hospital as President Mugabe always inquired on his health.
"His Excellency always asks me how you are doing. It is important that I visit as we get blessings from you, our elders," he said.
Nkala jokingly blamed his poor health on his old age.
"I am now old. Eighty years is not a joke," he said, adding that he preferred to receive medical treatment in Bulawayo. I get home sick in Harare and South Africa. It is better to be here."
His wife, Mrs Thandiwe Nkala, said he had been in and out of hospital for some time. She also revealed that he was in the intensive care unit last week.
"He has not been well for a while. Last week he was in the ICU and this week he was admitted on Wednesday night," she said.
Last year in May, Nkala, a former Home Affairs and Defence Minister, claimed that Mugabe wants to retire but fears his Zanu PF party will disintegrate and plunge the country into civil war. Mugabe had met Nkala for over an hour behind closed doors at the Joshua Mqabuko Nkomo Airport in Bulawayo.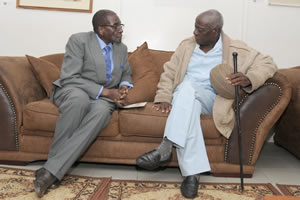 Nkala claimed Mugabe spoke mainly about the heavy infighting within Zanu PF.
"From what we discussed, Mugabe said he is tired and wants to retire but he cannot do so now because Zanu-PF will die. He cannot leave when the party is in such a state. What is holding him now is managing and containing Zanu-PF to prevent it from disintegrating," Nkala said.
"My own reading is that if he had his own way, he could have quit and taken a rest but circumstances around him and implications of what might happen are holding him. My own reading is that the President is not his own man. He said he has not yet found a successor with qualities to hold the party and the country together."
Nkala said "Politics is a dangerous game. It is not a sport where the leadership of a party should just exchange hands without proper grooming and handling. Mugabe did refer to factions and that they are eating away the party. He said ZANU PF is no longer united," Nkala said.
"From our discussion, this issue (succession) is very dicey. This will produce an ugly situation in the end, if not managed properly. It is not a good thing. It can produce chaos, even a civil war and we do not want that.
"The basic thing is that he is looking for, or grooming someone who can handle ZANU PF and contain enemies associated with these factions for the sake of the party and the country," he said.
Asked whether Mugabe should retire Nkala said for "the sake of peace" Mugabe should not go because "Zimbabwe came out of a conflict and not democracy and this gives a picture of what to expect if he goes now before the ZANU PF internal politics are managed properly."
In October 2011 Nkala said Zanu PF needed to "throw away Mugabe if it wants to win the next election." He said Mugabe "has a lot of faults, defaults and lack of understanding of what we should do to continue to be a respectable country."
"Morgan Tsvangirai will win against Mugabe no matter what people say about him. Hate him, insult him, but he is the only person who has the potential to win the election if it is done in a free and fair manner," he said.
After his meeting with Mugabe, Nkala was singing a different tune claiming "We don't want any civil war or chaos in this country. We want peace. It's easy for people to say Mugabe must go, Mugabe must go, but most of them do not know that he is the glue that has been holding this country together."
"You need a good manager like Mugabe to keep these stakeholders together for the sake of the country. Small issues have sparked chaos in other countries and you cannot tell me that you think life will go on as usual if Mugabe dies today and someone takes over without managing such stakeholders," Nkala claimed.