Woman assaults husband's workmates for lying
HARARE – There was drama along Sam Nujoma Street when an enraged woman, whose husband had been missing for the past three months, assaulted her spouse's workmates accusing them of influencing him not to come home.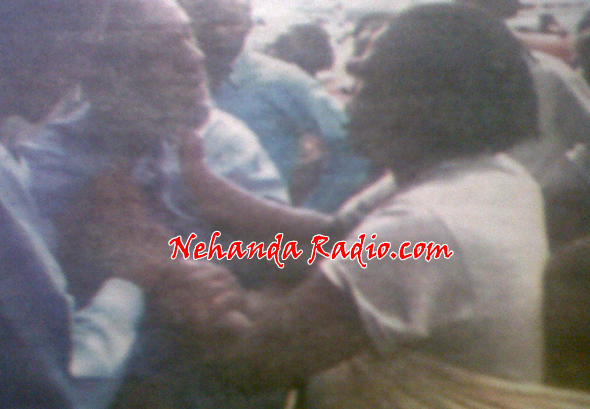 Martha Charamba of Braeside Police Barracks caused quite a stir in the city centre when she confronted and attacked her husband's workmates Ignatius Dangare and one Sekuru John working at the ICL Building in the city.
An infuriated Martha said that she was reliably informed that Ignatius and Sekuru John were influencing her husband Michael Ofaman to desert his family.
"You know where my husband is and I am going to beat you up until you tell me where he is," said a seething Martha as she charged towards the duo.
"You have been influencing my husband to indulge in prostitution but I will teach you a lesson," fumed Martha while punching Sekuru John and Ignatius.
Narrating her ordeal, Martha blamed Ignatius for swaying her husband to abandon his family. "Michael and I used to be a happy couple, we would only quarrel because I would tell him not to drink a lot of alcohol but otherwise everything was ok between us.
"My husband left home on the 12th of December last year and all this time I was looking for him. Each time I visited him at his workplace, they have been telling me that he has not been reporting for work.
"What irks me most is that a certain man who stays in the same neighbourhood with Ignatius told me that my husband was always in the company of Ignatius.
"What also angered me is that when I asked Ignatius about my husband, he lied to me saying that he last saw my husband a long time ago. I ended up beating him up because he received a phone call from his boss and said some f****g woman was bothering him.
"I also assaulted Sekuru John because he pushed me aside ordering me to leave the building," she said. In another interview, Ignatius said that he was not aware of Michael's whereabouts.
"I was not happy with how this woman treated me, she humiliated me in public, I could have fought her back but I was man enough and I controlled my emotions.
"Michael is a good friend of mine but it's been a while since I saw him, I don't even know where he is and even if I know where he was she can't force me to tell her," he said. The drama stopped when the trio was escorted to first street police post where Martha was cautioned.