By Garikai Mazara
HARARE – This Saturday will see the first ever AfricaMagic Viewers' Choice Awards, which would be the African equivalent of the Oscars, to be broadcast live across the continent covering 47 countries.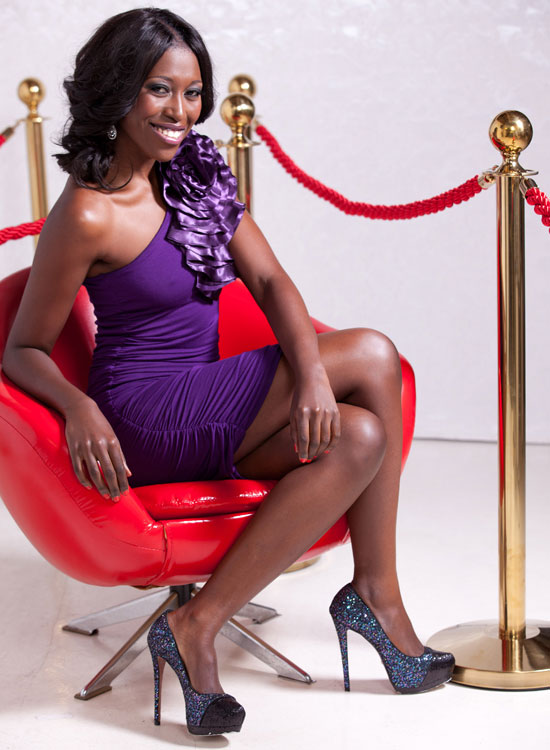 Although Zimbabwe does not have a single nomination in the various categories, its own Vimbai Mutinhiri, who was introduced to television audiences across Africa in Big Brother Amplified, will co-host with Nigerian IK.
Hers has been a steady rise from a virtual unknown Harare girl to the red carpets of Africa, for she has been all over the continent, thanks largely to her co-hosting Star Gist, another AfricaMagic production. But that road to stardom did not come overnight, as Vimbai says she toiled for long hours.
Speaking from her Johannesburg base on Tuesday, Vimbai confessed that she has an in-born bond with television.
"Just yesterday I received a message from someone who attached a YouTube video, asking if I was the same person as in the video. Then I was only 14 years old, when I did a short film for the Zimbabwe International Film Festival, titled 'Who's In Charge', and I had almost forgotten about the short film. So you can see my marriage with film and television did not begin with Big Brother Africa, as some would want to think, it comes from years back."
Born to Tracy and Ambrose Mutinhiri, Vimbai was privileged to have been all over the world as her father was an ambassador, based then in the former Yugoslavia. "I was born in Harare, at the Avenues Clinic, but was soon to find myself in Belgrade as my father was posted there and did part of my education there and in the United Kingdom."
After Mutinhiri, the father, had done his national service, it was time for the family to come back home and Vimbai found herself enrolled at sschools such as Arundel and Peter House. She then went to the University of Cape Town, for a Bachelor of Social Science degree in Politics, Philosophy and Economics, an academic achievement she says has never been used to this day, as she opted for modelling, television, music and film (not in any particular order).
So could that affluent background have had some influence in her "snobbish" behaviour during the Big Brother experience? Speaking soon after her eviction from the reality TV show, on the penultimate weekend, Vimbai defended her behaviour adding that she was not "snobbish" but "it's unfortunate that I'm sometimes a bit misunderstood. Yes, I am a particular person who can be reserved at times and people sometimes see this as snobbish but I'm not a malicious person at all".
She conceded that her experiences on Big Brother Africa clearly opened the doors for her to be where she is today. "I have grown as a person in the two years since Big Brother as I have been educated a lot about entertainment, especially across the continent, as I got to travel immensely. It started with the fun we had in the house, it was a lot of fun and experience and when we were done with the show we would invite each other over and that broadened my horizon a lot."
But her world was to change completely when she was asked to co-host Star Gist, a daily showbiz entertainment magazine show on the AfricaMagic Entertainment channel, with South African Lawrence Maleka. "Star Gist, as if to answer my prayers, opened the doors for me, to really appreciate African talent and the diverse cultures as the programme has taken us to almost every corner of the continent. As someone who already had a passion for fashion, I got to learn the different fashion crazes in different cultures."
Star Gist and travelling aside, isn't she having sleepless night thinking about the upcoming African Oscars? "Yes, it is a very big challenge to host the first ever AfricaMagic Viewers' Choice Awards, because that is history in the making but I am very positive about the challenge. What is more gratifying would be the presence of IK as he has handled Africa on several occasions and knows how to host a live show. I think sharing the stage with him will help me with the confidence."
What will make the task even more daunting for her is that she will be hosting the live broadcast in Lagos, Nigeria, the heart of Nollywood. "Nigeria is the epicenter of movie-making in Africa and to be chosen to host in Nigeria, as much as it might seem a huge task, is all the more gratifying, because talent in Zimbabwe has been recognised. In-as-much as I would have loved to see one or two nominations from Zimbabwe, I think we should use the inaugural awards to have an introspection, to see what we could be doing wrong in our local film industry. There are a lot of lessons to be learnt from the AfricaMagic Viewers' Choice Awards."
So is the co-hosting with IK going to be the first time that the two will be meeting, after her eviction from Big Brother Amplified. "No, we are workmates and this will make the co-hosting all the more exciting. After the Amplified experience, we got to work together on the red carpet for the Stargame and we are always together at the studios. He is such a bubbly character and very lively too, that I will have to be at my best to match him."
According to M-Net Africa's managing director, Biola Alabi, the pair was chosen because their experience and passion for the African entertainment scene makes them unique ambassadors for the event who are capable of successfully engaging with both television viewers in 47 African countries and the invited guests at the EKO Exhibition Centre where the AMVCAs will be held.
Said Alabi: "IK's cool, calm professionalism combined with his effortless charm is clearly a benefit during busy live broadcasts while the always optimistic and stylish Vimbai is the ideal co-host for what we are confident will be a glittering, glamourous night for African stars, industry insiders and audiences watching at home."
At 26, coincidentally her birthday was a fortnight ago, has Vimbai found Mr Right given media reports after Big Brother Africa that men were afraid to ask her out? "That was taken out of context," she laughs off the media reports, "but I can safely say I am now married to Television and if I am going to cheat on him, it has to be with Fashion or Music or Film."
Speaking of music, she says she released a single soon after Big Brother Africa Amplified and has an album to her name and an additional 20 songs ready for the market. "Maybe years later, when I am done with travelling and discovering Africa, I will revert to my other love, music. I have plenty of material ready for recording, only that my current schedule is hectic."
And about Saturday's awards ceremony, she had this to say: "I feel there is no better way to pay homage to the outstanding stars we have on this continent than to be a part of the grand occasion to honour each one of them. I am sincerely humbled. I am expecting to see and hear Africa's finest putting their best foot forward on Saturday. The AMVCAs promises to be a night of glamour and excitement, so I can't wait to see the finest couture on the continent. I'm also looking forward to some hot entertainment. It's going to be bigger and better than anything we've ever seen or experienced … I know this for sure!"
The AfricaMagic Viewers' Choice will be screened live on Saturday at 8pm on AfricaMagic, AfricaMagic Entertainment and AfricaMagic World as well as AfricaMagic Movies and Movies 1. The awards will be handed out at two separate events. The first event will be dedicated to stand-out technical accomplishments, while the main event will be a glittering and glamorous gala night.
Twenty-eight accolades will be awarded ranging from acting and directing to script-writing and cinematography. Other fields which will be recognised include editing, make-up, sound, lighting and costuming among others.
In addition, the awards will feature two categories destined to become annual talking points — the Industry Merit Award and the TrailBlazer of the Year Award. Popular actors nominated include Osita Iheme, Genevieve Nnaji, Jackie Appiah, Funke Akindele, Bubu Mazibuko, Mercy Johnson and Nolwazi Shange. Sunday Mail