HARARE –There was a bizarre fist fight in Highfields on Sunday between a female nurse aide and her neighbour, a commercial sex worker. Both have similar stunning curves and are said to look alike, creating an identity crisis.
The nurse aide identified as Annette or Mai Ngaa works at a local hospital and is furious that her neighbour, Chipo Maruta (20), the look alike, is ruining her reputation because people mistake her for the commercial sex worker.
Annette has tried to rebuke her fellow tenant against her thigh vending business but to no avail.
"We had a heated argument yesterday after neighbours who used to watch Chipo doing her strip tease outside the house thought I was the one into the commercial sex work owing to our striking figures as we are both heavily built.
"In fact, this is my mother's house and I am the one who the neighbours know very well and Chipo is just a mere tenant here. We both have big bums and some mistook me for Chipo.
"At times motorists visit here looking for Chipo because she is a hooker and I am a nurse aide and her behaviour annoys me and affects my reputation.
Annette said she advised Chipo against her wayward night acts but the latter came back drunk to fight Annette. "Chipo left home last night (Saturday) and she only came this (Sunday) morning drunk," narrated Annette.
"She then attacked my child after she failed to locate me and that angered me as I arrived soon after. I retaliated by kicking her before the police separated us.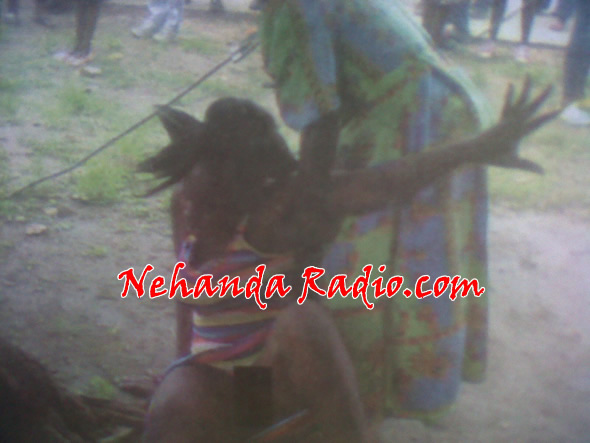 Chipo's mother Margaret Maruta said that she thought her daughter had been knocked by a car after she saw her lying prostrate on the road in a pool of blood.
"I was shocked and I thought Chipo had been hit by a motorist after I saw her lying by the roadside and neighbours surrounding her," said Margaret.
"She left home after she had an argument with Annette and she came back drunk and started making noise and I did not expect it to be like this on my return from the market.
"She was drunk and she even attacked me as I tried to restrain her from fighting with Annette over a minor issue," said Margaret.
When Chipo confronted Mai Ngaa, she accused her of trying to sabotage her 'thigh' vending business while it was her only source of livelihood.
Chipo ran berserk and shattered window panes at the house. Chipo was however arrested and detained at Machipisa Police Station facing a charge of malicious damage to property and assault.