Report by Jonathan Mbiriyamveka
HARARE – Bryan Kadengu, a rookie musician who came tops in the popular Star Brite reality show drove home, in a brand new a Toyota Spacio as part of his prize for winning the talent search show.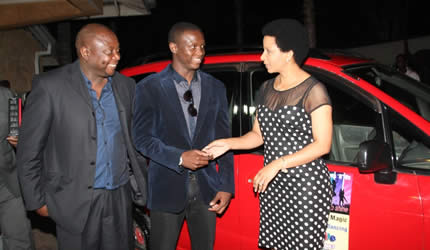 The red van courtesy of Pinnacle Holdings was presented last week at an exclusive handover ceremony held at Pandhari Hotel in Harare. "It has been wonderful and I am honoured to receive such a gift from Pinnacle. All I want to do is to thank the Almighty God," he said before he went on a spin.
Presenting the car and an agreement of sale, Pinnacle representive Elizabeth Chiyangwa hailed the winners for their efforts. "On behalf of Pinnacle Holdings I hope you will be proud owners of your homes," she said amid huge applause from the crowd.
Besides winning the car, Bryan also got a residential stand from Pinnacle Holdings, a weekend for two at the Victoria Falls resort courtesy of the Zimbabwe Tourism Authority, a handset from G-Tel as well as a recording deal with Oliver Mtukudzi's Tuku Music.
He also got a 32-inch LCD TV courtesy of Goldtech Electronics. Others winners were Amanda Manyowa of Harare and Xolani Ndlovu of Bulawayo who performed on the night. Manyowa will travel to South Africa for a mentorship programme with Judith Sephuma.
Xolani, who is a cousin to football legend Peter Ndlovu, also got a recording contract with Tuku Music and a laptop, Android phone and a residential stand.
In the special category, poet Promise Mudavanhu from Masvingo came first with Nomore Dovi as the runner-up. Harare-based dance group Magesh Tonardos got a residential stand, two Android phones, a laptop and a laptop bag.
Barney Mpariwa, the producer of the show, also got a residential stand from Pinnacle Holdings. A seasoned radio and television presenter, Barney thanked the sponsors for believing in the show.
"It is one thing for me to make a sacrifice because I know where I want to take the show but when other people believe in that vision and buy into the idea it is wonderful. I would like to thank Dr Philip Chiyangwa for buying the into idea and it was amazing that he was one of the first to believe in the show since its inception.
"If there are people who can testify that Dr Chiyangwa is a man of his words I think I would be the first one to confess. He has honoured his pledge," Barney said.
Guests were treated to some of the bleeps and blunders during of the last season and in between some riveting performances by the winners as well as fruit juices courtesy of Thirsty's Water and Juice.
According to Barney, preparations for this year's season two are on course and he was confident that they will surpass the 7 000 entries of the last season. The Herald