By Staff Reporter
MDC-T senior official Professor Gordon Chavunduka, a former Vice Chancellor of the University of Zimbabwe and president of the Zimbabwe National Traditional Healers' Association (ZINATHA) has died.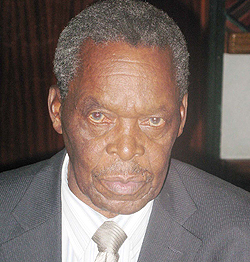 A statement issued by his party late Friday afternoon said the 82 year old prominent sociologist had passed away in Harare on Friday. "Funeral arrangements will be announced in due course," the statement added.
Chavunduka published several books on traditional medicine and witchcraft and attended the 1979 Lancaster House Conference that led to Zimbabwe's independence as a member of Abel Muzorewa's delegation.
Professor Chavunduka was vice-chancellor of the University of Zimbabwe from 1992 to 1996. After his retirement from university life, he served as president of ZINATHA the organisation that represented traditional healers.
He was widely known for his research and writing that did much to bridge the gap between Western medical practices and Africa's traditional, tribal and herbalist healers, sometimes referred to in the West as witchdoctors.
Born to a family of nine, Chavunduka was the only survivor after he buried his young brother, Zimbabwe's first black veterinary surgeon Dexter Mark Chavunduka in August last year.
Professor Chavunduka is a former member of the MDC-T's national executive and sat on its Council of Elders at the time of his death. He is also the father of former ZBC TV and later CNN newsreader Alice Chavunduka.
Chavunduka was born at St Augustine's Mission Penhalonga, on 16 August 1931. His parents (Solomon and Lilian Chavunduka) came from Wedza. His father was originally an agricultural instructor but subsequently became a farmer and a priest of the Anglican Church.
Chavunduka obtained a BA in Sociology and Social Anthropology from the University of California in the United States, an MA in Sociology from the University of Manchester in the United Kingdom, and a PhD in Medical Sociology from the University of London.
The esteemed academic worked his way up the academic ranks from assistant lecturer in 1966 to professor of sociology from 1979 to 1992, when he was then appointed Vice-Chancellor of the University of Zimbabwe for a five-year contract period.
In 1979, Chavunduka served as a member of the Abel Muzorewa delegation at the Lancaster House Conference which culminated in Zimbabwe's independence the following year. He also assumed the presidency of the Zimbabwe National Traditional Healers' Association (Zinatha).
Mourners are gathered at his Mount Pleasant home in Harare.