HARARE – President Robert Mugabe is rushing back to Harare today in a last-ditch effort to clear the last hurdles in the constitution-making process.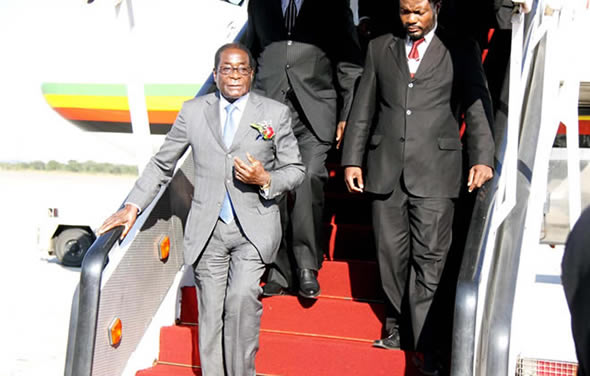 Cutting short his annual vacation in the Far East, Mugabe is expected to arrive in Zimbabwe today where he will face a nation seeking answers on the Copac crisis, two weeks after a Christmas deadline to agree to a deal on a draft constitution.
Copac is a cross party parliamentary body charged with crafting a new constitution viewed as key to future stability.
Vice President Joice Mujuru inadvertently revealed that Mugabe was heading back today after meeting a special envoy from Sudanese President Omar al-Bashir at her Munhumutapa offices in Harare Tuesday.
The Sudanese envoy requested that Mugabe should mediate in a border dispute between Sudan and South Sudan.
"He had a message for President Mugabe sent by President al-Bashir, unfortunately he is on leave and will be back in the country on Thursday," Mujuru told reporters after meeting al-Bashir's envoy first Vice-President Ali Osman Taha.
Sources say he is likely to be busy with the draft constitution when he comes back.
Zanu PF spokesperson Rugare Gumbo had on Monday said politburo's first meeting would be held most likely in early February where it was envisaged Mugabe would have returned home. But, Mujuru says he is now returning today.
Mugabe returns to a sharply divided coalition, where talks have soured over a presidential running mates clause. A committee of the nation's top lawmakers that has been drafting the constitution has narrowed the differences from six to one.
The special Cabinet committee has said it will be happy to look at the Copac team proposal, but they are coming up against a hard deadline.
The Copac team has offered a viable solution and members on both sides of the aisle in the Cabinet committee will review it, and then refer it to the three principals Mugabe, Prime Minister Morgan Tsvangirai and Welshman Ncube to decide how best to proceed.
The Copac deadlock has left Zimbabweans wondering whether they will be able to put the draft to a test in a referendum, and worried the donors, who pumped over $45 million into the constitution-making process.
Complicating efforts to avert a collapse of the process, Zanu PF has escalated a push for fresh polls under the 19-times amended Lancaster House Constitution if the deadlock persists.
Experts say failure to strike a compromise could plunge the country into improbability, and wrangling over further amendments to the draft will only exacerbate uncertainty about the forthcoming vote.
Tsvangirai also took advantage of the post-holiday lull to take his annual vacation, but returned this week. Both Mugabe and Tsvangirai were forced to cut their holidays short, in order to return to Harare to respond to the festering constitutional impasse.
The constitution deadlock has added further controversy to an already spicy election campaign.
While Tsvangirai is anchoring his campaign on a jobs plan, a controversial empowerment programme goes to the heart of Mugabe's push for re-election in the forthcoming watershed vote and his campaign is built around his personality.
While the promise of empowerment is a vote-winner among Zimbabwe's poor majority, opponents scoff at it as crass electioneering and say the policy dents investor confidence and hurts job prospects. Mugabe and Tsvangirai are in a statistical dead-heat in most opinion polls.
While Tsvangirai is flaunting an uptick in the economy after a decade of economic meltdown blamed on Mugabe's policies, his rival is using his strong personality and enduring emotional connection with the poor, sympathy over his battle with age and health, and the popularity of empowerment programmes mainly the land reform and the indigenisation programme.
Tsvangirai, 60, is successfully projecting an image of youth and energy in contrast to the president — who is battling advanced age — and is drawing large crowds on a nationwide campaign tour.
In the growing campaign war, Zanu PF's opposition cannot match the resources of Mugabe, who frequently obliges the sole State TV station to carry his speeches and appearances live in chain broadcasts. Daily News