BULAWAYO – Zimbabwean international soccer legend, Peter "Nsukuzonke" Ndlovu, has been discharged from hospital and is recovering well at his home in Bulawayo.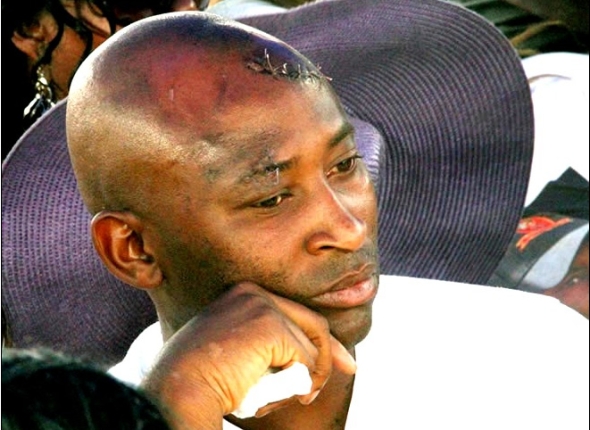 Ndlovu, who sustained serious injuries when he was involved in a fatal car accident two weeks ago, was discharged from the Intensive Care Unit (ICU) at Mater Dei Hospital yesterday afternoon.
A Chronicle news crew met the celebrated soccer icon at his home yesterday evening when he met the Minister of Mines and Mining Development, Obert Mpofu. Ndlovu, who looked happy and relaxed, had a light conversation with Dr Mpofu who congratulated him for the speedy recovery.
"Uqinile wena mfana (you are a strong man) after all that happened. We commend your family for remaining strong and supportive especially Madinda," said Dr Mpofu. Said Peter in response: "Yini elingiqinisayo mdala. You are one of the people who make me strong," he said laughing.
His elder brother Madinda said the family was happy that Peter has been discharged after undergoing an operation on both legs last week.
"We are very happy as a family. As you can see he is on crutches and no longer on the wheelchair. He was discharged from the hospital a few hours ago," said a smiling Madinda.
Asked to comment on reports that "Nsukuzonke" might be taken to the United Kingdom for further treatment, Madinda said: "We are not ruling that one out but we will be giving you details about it later."
Madinda said the family was still grieving following the tragic death of Adam who died on the same accident with a female passenger, Nomqhele Tshili. "The passing on of Adam has seriously affected the family but for now our focus is on Peter," he said.
Mpofu has been working closely with the Ndlovu family from the time the accident happened and has pledged to meet Peter's medical expenses. He also paid part of "Adamski"'s funeral expenses. The horrific car crash happened on 16 December, a few kilometres outside the resort town of Victoria Falls.