By Augustine Hwata
HIGHLANDERS' captain Innocent Mapuranga believes their showdown against Dynamos could now decide the destiny of the Castle Lager Premiership title after the two giants continued running neck-to-neck in the league race.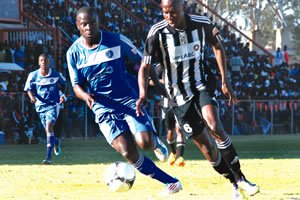 Former log leaders Bosso have struggled in their last two matches where they have allowed DeMbare to seize the initiative in the championship battle. However, the two rivals will have to wait a little longer for what could probably be the biggest league clash of the season, if not the last 13 years.
The PSL have postponed all league matches for this weekend because of the Warriors' crucial assignment in an African Nations Cup final in Luanda, Angola, on Sunday.
The Bulawayo giants appeared to have the fate of the championship firmly in their hands when they edged Hwange 1-0 while Dynamos lost 1-0 to Chicken Inn during round 23.
But then Highlanders failed to consolidate their position at the top as they fell 3-0 to Monomotapa at Rufaro before Dynamos thumped Shabanie 4-1 at the same venue 24 hours later.
On Sunday, Highlanders were given a scare by a 10-man Black Mambas before defender Lawson Nkomo struck the priceless goal in injury time while Denver Mukamba and Tawanda Muparati spurred Dynamos to a win over Hwange.
Mapuranga, who has been solid in defence for Highlanders, yesterday said they should now win the match at Rufaro to reclaim the advantage. A victory for Bosso will see them eclipsing Dynamos by a point ahead of the last matches.
"We have to win the match against Dynamos at Rufaro so that we regain the advantage
"That game will be the decider for the championship. I know that everyone is now waiting for that game and we have to be prepared mentally and physically," said Mapuranga.
Mapuranga is aware of the potentially explosive atmosphere that will greet his team when they march into Rufaro. Last week, Highlanders coach Kelvin Kaindu said it was becoming increasingly difficult for Bosso as they were playing against too many opponents in one match.
Dynamos fans had formed an alliance with Monomotapa supporters during Bosso's visit to Rufaro but the Bulawayo giants are likely to form a coalition with the CAPS United supporters during the Battle of Zimbabwe explosion.
Mapuranga, who is one of the three Highlanders players in the national team camp, said they should now try to get early goals in their next matches.
"It seems some teams do not have ambition and they would want to play for a draw against us.
"They have been employing some delaying tactics but I am happy that we managed to get the vital goals at the end. We should now look for early goals in the next match and force our opponents to chase the game," said Mapuranga. Meanwhile, Monomotapa forward Makai Kawashu has conceded that their side is now out of the championship race after their goalless draw against CAPS United at Rufaro on Sunday.
"We are now out of the championship. The teams at the top have opened a gap that will be difficult to close but we hope to bounce back next season. This is football where one day I could be higher up there and the next day could be a slump in form," said Kawashu. The Herald