By Jonathan Mbiriyamveka
President Mugabe and his wife Grace Mugabe treated music superstar Oliver Mtukudzi to a lavish dinner on his 60th birthday held at the singer's multi-million dollar Pakare Paye Arts Centre in Norton at the weekend.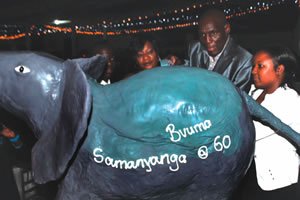 The dinner, courtesy of the First Family that was, however, not present as they are attending the UN General Assembly in New York, had royalty written all over it.
There was plenty of food reminiscent of the mound of food in Chinua Achebe's "Things Fall Apart", where relatives only got to see each other after eating half of the food.
Drinks rained too, all types from soft, 100 percent juices to whisky all for the good life of one of Zimbabwe's most illustrious international music icon — Oliver Mtukudzi.
The intimate dinner held at the spacious Sam Mtukudzi Conference Centre, which attracted people from all walks of life, was a sign that showed Tuku as a unifier and true cultural ambassador.
He does not belong to a particular class of people nor does he choose people according to how deep their pockets are but he loves all the people regardless of who they are. The three-course dinner comprised of mixed vegetable salad as a starter, while the main meal had braised brisket, Cambridge sausage stew, roasted chicken with peri peri sauce or pan fried trout served with fruity sweet chilli sauce.
The starches included braised jesmine rice, boiled jasmine rice and oven-roasted potatoes as well as oven-baked cinnamon and honey butternut glazed mixed vegetables. Added to this culinary delight was a selection of desserts ranging from chocolate chiffon cake, fruit tarts and custard tarts to fruit kebabs. It was pretty exciting to see that Tuku surrounded himself with his friends and relatives whom he shares his success and fame.
There were his relatives from the village too. Among the people who thronged Pakare Paye Arts Centre, the venue of the dinner were Police Commissioner General Augustine Chihuri, who hail from the same area with the musician, Media and Information Minister Webster Shamu and his wife Constance.
Ambassador Chris Mutsvangwa and his wife Labour and Social Welfare Deputy Minister Monica Mutsvangwa, Information Communication Technology Minister Nelson Chamisa, Deputy Minister of Media, Information and Publicity Murisi Zwizwai as well as businessman Philip Chiyangwa and wife Elizabeth were also part of the guests.
The strictly-by-invite dinner was also attended by fellow artistes Dominic Benhura, Daves Guzha, Suluman Chimbetu as well as South African musicians Dorothy Masuka and Steve Dyer. Music promoters, Josh Hozheri of Jazz 105, Taka Mashonganyika of Mash Trading, Partson Chimbodza of Chipaz Promotions accompanied by their wives looked awesome.
The United Kingdom-based Shingai Shonhiwa of the group Noisettes and radio personality Ezra "Tshisa" Sibanda were also part of the colourful crowd that attended the dinner. The Charambas, Charles and wife Olivia, backed by the colourful Fishers Of Men, delighted the audiences with some gospel music which kept people on the dance floor.
Afro-jazz star Bob Nyabinde who is a friend of Tuku also performed to satisfaction while a chocolate cake resembling an elephant, which is Tuku's totem, was simply outstanding.