The heart-wrenching exchange between a father whose son died in a car crash and a Zimbabwean teenage drunk driver who was behind the wheel left witnesses in a Wyoming courtroom in tears on Monday.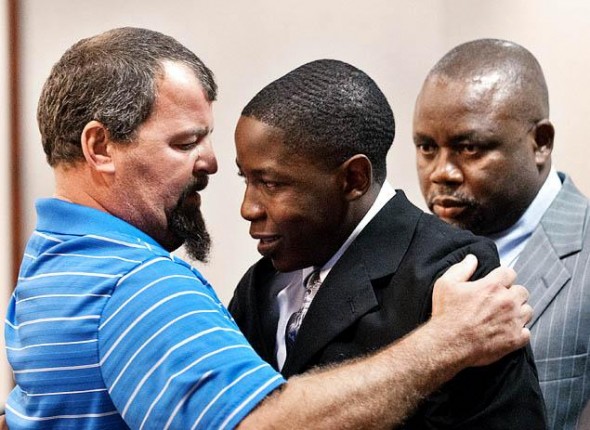 Takunda Mavima, 18, had just finished high school and was driving home from a graduation party on May 20 when he crashed into another car full of his classmates at Wyoming Park High School.
Tim See, 17, and Krysta Howell, 15, died in the crash and now Mavima, 17 at the time of the crash, will spend the next two-and-a-half to fifteen years in jail as a result. The local ABC affiliate WZZM 13 reports that at the time of the crash, Mavima had a 0.10 blood alcohol level, well over the legal limit of 0.08.
Mavima had attended a party at his friend Shane Harlan's house before the accident and Michigan Live reports that Harlan was subsequently sentenced to probation and ordered to spend five days in a court-ordered program.
Mavima's remorse was obvious as he attempted to hold back tears during his address to the courtroom filled with relatives of his victims.
'I'm so sorry that I took two bright, intelligent, wonderful people out of this world …. I wish … I'm so sorry,' he said, stopping intermittently for tears.
His sorrow did not fall on deaf ears, as both the sister and the father of victim Tim See spoke on behalf of Mavima, urging the judge to give him a light sentence as he understands and has apologised for his actions.
'I am begging you to let Takunda make something of himself in the real world– don't send him to prison and get hard and bitter, that boy has learned his lesson a thousand times over and he'll never make the same mistake again,' Lauren See said in court.
'I promised myself one thing that day. I promised myself I would not get angry.'
Forgiveness was seen throughout the ordeal, as the victim's father, whose name is also Tim, hugged Mavima as he walked out of court after the sentencing. It was a perfect storm, everything that happened,' Mr See said.
Relatives of Krysta were also present and her mother Angel said that in light of the accident she is determined to raise awareness about drinking and driving. While there is a range, the sentence is considered to be on the lighter side of the state's mandatory sentencing guidelines. Daily Mail