There was drama in Mbare last week when a Honde Valley farmer was caught with a married woman behind the popular Zororo Bar.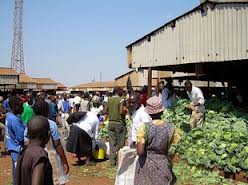 The couple Lorraine Musin'a (23) and Brandon Nyatsuro (23) said they were once classmates at Chisuko Secondary School in Honde Valley where they first met. Their reunion on Wednesday turned nasty when they opted for an afternoon quickie which backfired as they were arrested and detained at Matapi police station.
Brandon said he still has feelings for Lorraine after he was the first one to sleep with her years ago.
"We wanted to continue from where we left long back only to be caught by the police. Ndini ndakamubvisa humhandara saka ndewangu (I'm the one who broke her virginity, so she is mine).
"But the long distance separated us and we finally met at the market place. I hooked up with her at the bus terminus while waiting for my friend who was coming from Mutare and we opted to have an afternoon quickie," said Brandon.
Asked why they opted to play the 'adult game' behind a precast security wall, Brandon said: "I had no money to book a lodge but I thank God because I picked an unused condom while we were on our way to the love nest which I later used. Of course it is adultery because Lorraine is now married but we failed to control our feelings and decided to have sex."
In another interview, Lorraine confirmed that Brandon was the first man she slept with.
"I am sorry about what I did. I had visited the market intending to sell my bananas that I purchased in Honde Valley where I left my husband. I am a follower of Nzira Yezvokwadi Apostolic sect.
"I believe God had a reason for this because this situation has afforded me a chance to publicly ask for forgiveness from my husband. We were lovers with Brandon during our school days and at Katiyo Primary School long back before we met today. He is the first man I had sex with and we did it once in Honde Valley only to be arrested today,' said Lorraine.
She added that they were still busy enjoying themselves when they heard footsteps of the police officers and Brandon could not leave because they were right in the middle of enjoying the forbidden fruit. H Metro