Alick Macheso's dancer Peter Kagomera is on the verge of joining pole dancer Beverly Sibanda's Sexy Angels Dancing Troupe. This development follows his dismissal from Orchestra Mberikwazvo.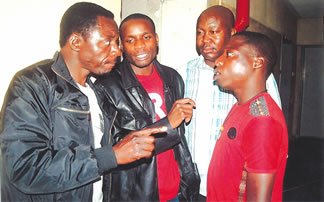 He had been fired and reinstated for more than three times for bad behaviour. Bev's manager, Hapaz Mapimhidze confirmed the imminent move but said Peter was still to sign on the dotted line.
Mapimhidze said Peter indicated his intention to join them after he wowed the crowd on stage alongside Bev and the Sexy Angels at Super Label Nightclub last week. Since then, the nimble footed dancer has been a regular at Beverly's shows.
"Yes, it is true that peter Kagomera came to Bev's Super Label show last week and jumped on stage to a rapturous response. After the show Peter asked Sexy Angels to employ him as he was now jobless after having been FIRED by Orchestra Mberikwazvo management, so now we will sign him along with another dancer who arrived this week," said Mapimhidze.
Macheso's assistant manager Jethro Machanja refused to comment on the matter.
Peter is currently fulfilling his community service sentence for biting a police officer. He was not available for comment. Insiders, however, said his wife Tanya Shame is against his move as she believes Orchestra Mberikwazvo is a bigger outfit and that's where their bread should be buttered.
If this deal sails through, Peter will become the only male member of the Sexy Angels. H Metro