Alick Macheso dancer convicted of cop assault
By Lovemore Meya
Alick Macheso's dancer, Peter Kagomera (24), will perform 630 hours of community service after he was convicted of assaulting a police officer who wanted to arrest him.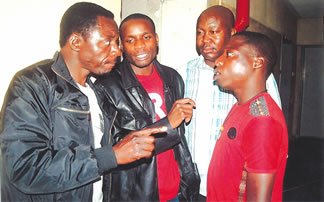 Kagomera was sentenced to eight months in prison, which was wholly suspended on condition that he performs 630 hours of community service at Chitungwiza magistrates' court.
Kagomera appeared before Chitungwiza magistrate Ms Olivia Mariga. The dancer was jointly charged with Wellington Katsande (28) and his friend Blessing Chikonzo (26) both of Chitsvatsva Village, Seke.
Katsande and Chikonzo were acquitted after prosecutor Mr Henry Muringani failed to prove a case against them. Kagomera denied two counts of resisting arrest and assaulting a police officer when he appeared in court for allegedly biting the police officer who wanted to arrest him.
But he was convicted at the close of the State case. In his defence, Kagomera said he did not know that he was fighting a police officer since it was dark. Katsande and Chikonzo were facing charges of obstructing police from arresting Kagomera.
It was proved that on June 30 this year at Murisa Business Centre in Seke at 11pm, Kagomera had one too many at Chillers Bottle Store with his colleagues. It was then that he snatched a beer bottle from another patron, Tobias Gadzira (24), and smashed it on the ground.
This caused commotion, attracting the police officers' attention. Katsande and Chikonzo allegedly grabbed one of the police officers and took away his handcuffs.
They ordered the officers not to arrest Kagomera, saying he was a famous person. Kagomera fought the police and escaped, but was arrested later that night after the police mounted a search for him. The Herald