By Peter Matambanadzo
At least 40 faith and traditional healers were de-registered by the Traditional Medical Practitioners Council for improper and disgraceful conduct since 2010.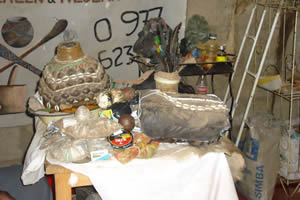 They were charged and fined up to US$200 each for contravening the Traditional Medical Practitioners Act, which regulates the practice of faith and traditional healers.
Their offences included misrepresenting to the public that they could heal and remove evil spirits and fleeced people of their hard-earned cash, livestock and other valuables. TMPC registrar Ms Joice Guhwa on Friday confirmed the de-registration of the 40 healers and self-proclaimed prophets.
"The council withdrew certificates from the healers over a period between January 2010 and June 2012," said Ms Guhwa.
"We charged and de-registered them for engaging in improper or disgraceful conduct. Our Ethics Management and Licence Vetting Committee conducted inquiries into the allegations levelled against these practitioners and were all found guilty and de-registered," she said.
Ms Guhwa said some of the cases had already been referred to police and culprits handed over for prosecution.
Some of the de-registered prophets include Nelson Chihota aka Madzibaba Oswold, Bernard Chipikiri, Parent Chifamba and Elphas Phiri (all from from Johane Masowe weChishanu in Epworth), Prophet Chamunorwa Murinani operating in Murewa, Prophet Costa Muza and Prophet Ophias Chimbumu who conned villagers in Mhondoro.
Another de-registered prophet is leader of the 12th Apostolic Church only identified as Prophet Ngwenya. Amos Fufu, a self-proclaimed tsikamutanda operating in the Chegutu area, Aleck Nyamweda, Anyway Mudimu and Pheneas Gweshe who were operating in Hwedza, but are from Hurungwe were also de-registered.
According to Ms Guhwa, those de-registered were mostly self-proclaimed exorcists and bogus prophets fleecing villagers of cash and livestock after accusing villagers of having goblins. She said the prophets and traditional healers were using the same methods to trick their unsuspecting subjects like planting fake goblins in houses.
Ms Guhwa said investigations revealed that the "goblins" were made at Mupedzanhamo Market in Mbare. The Herald