By Augustine Hwata
HARARE- Callisto Pasuwa was last night cursing his team's misfortune after their bold mission to try and remain in the Champions League was rocked by the withdrawal of chief striker Takesure Chinyama from tomorrow's showdown at Rufaro.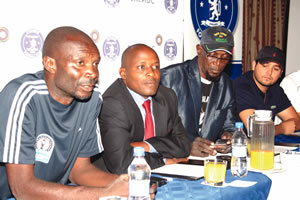 Such is the crisis in the Glamour Boys' camp that Pasuwa went into camp with just 17 players — the only fit and eligible members of his squad that he could assemble for the tie against Esperance.
Tineyi Chitora, who was signed as a striker, remains AWOL, and this investment is turning into money flushed down the drain while Zambian forward Derrick Kabwe is still awaiting his papers to start working in Zimbabwe.
Zambian midfielder, Arthur Kaseloki, who could be used as an attacking option in times of distress, is also unavailable because of work permit problems.
The issue of the two Zambians, and the challenges they have faced just to try and work in Zimbabwe, has divided the DeMbare camp with some factions claiming that the move to get their papers was being sabotaged in-house.
Interestingly, Bosso coach, Kelvin Kaindu, a fellow Zambian who arrived after the duo, has already been granted a work permit. CAPS United coach, Sean Connor, was also granted a work permit despite coming in after the Zambian players.
Pasuwa will only have Martin Vengesayi and Rodreck Mutuma, in easily the weakest attacking combination, in terms of experience, thrown into the deep end by the Glamour Boys in a Champions League tie.
The Zimbabwe football kings are chasing to wipe out a 0-6 deficit suffered from the first leg in Tunis but history and the odds are heavily stacked against them.
In the 48 years of the competition, no club has been able to progress after suffering such a big defeat in the first leg. It's even worse for Pasuwa as he is going to battle with a heavily depleted side after on-fire striker Chinyama was ruled out because of a swollen knee.
Chinyama is the leading scorer for Dynamos in the Champions League after getting the all the team's three goals. Problems had been dogging Chinyama since early in the week when he missed the first day of training following a bereavement in his family.
Midfield hardman Milton Makopa is also out of tomorrow's game because of a hamstring strain and there was further sad news last night when Augustine Mbara left camp following the death of his sister.
The Harare giants will also be without Timire Mamvura, who is on three yellow cards, while veteran defender Guthrie Zhokinyi is also on suspension. Surely the Mission Impossible has became a reality.
Dynamos will be forced to drop to the Caf Confederation Cup to revive their search for glory in the African safari this year. Yesterday, the club's executive also revealed that the gate charges are now US$3 for the cheapest ticket.
Earlier they had announced that the minimum ticket will be pegged at US$5 but club treasurer Moses Chikwariro said the charges will be kept at a minimum and the upper grand stand seat will cost US$10 and the VIP ticket is US$15.
Pasuwa said they now have to concede that they will field an under-strength team, especially now that Chinyama's firepower will be missed. "It's a sad scenario and, as coach, you can look for answers but you always need your best players to be there, especially for such big games, and Takesure is a player we badly needed," said Pasuwa.
"But we have no choice because we tried to force issues but there is very little you can do with swollen knees. It's sad that he is out and it will affect us in a very big way but we have a game to play and we will try our best under very difficult circumstances.
"We played 90 minutes in Tunisia and we have got another 90 minutes to play here at home. So, the game in Tunisia was like the first half of a match and we are now going into the second half."
Veteran goalkeeper Washington Arubi, voted the best player in the Zimbabwe league season, was forced to retrieve the ball six times from the nets as Esperance ran out winners two weeks ago. But Arubi believes he has put behind him the nightmare in Tunis and is upbeat ahead of tomorrow's game.
"I still remember suffering such a big defeat when I was at Lancashire and we were playing Amazulu who beat us 5-0 and I was in goals," said Arubi.
"So I was not really surprised to concede six goals. It might have been a bad day for us but we should give ourselves the confidence as players and get a positive result now. The last two games we have played after the debacle boosted our morale. Now everyone is geared for the game."
Since the defeat in Tunis, Dynamos have played two league games where they managed to beat Buffaloes (2-0) and Hwange (4-2). Dynamos are the underdogs in this game and it's unlike most of their domestic games where they are saddled by the pressure of being favorites.
Esperance arrived last night and their protocol officer, Sadok Ben Aba, who came as part of the advance team on Thursday, said they will find it difficult to play their normal game on the artificial turf.
"The fact that we beat them 6-0 does not mean Dynamos are a bad side," said Aba. "I still remember one match in which we lost 5-0. The other challenge for our players will be adjusting to the artificial turf. We are used to natural grass and we struggled to get a 1-1 draw in one of the games in Gambia."
DeMbare will also be happy to know that Esperance's Youseff Mskani, who scored a brace in Tunis, is suspended for tomorrow's game. Mskani is known as the African Messi. He is a good player and is wanted by Atletico Bilbao," said Aba. "Unfortunately, he is not playing because of yellow cards."
Aba said it took them 17 years to build a team to win the continental championship and urged Dynamos to be patient, saying they had potential to one day triumph in the big league.
Fixture
Tomorrow
African Champions League second round, second leg
Dynamos v Esperance (Rufaro).