Joice Mujuru lifts lid on 'womanizing' husband
By Xolisani Ncube
HARARE – Vice President Joice Mujuru chose the memorial service of her late husband Solomon to lift the lid on his cheating and love life when she astonishingly described him as a womaniser.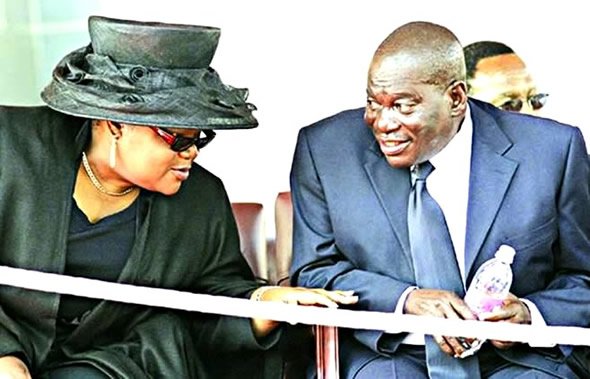 Mujuru, told thousands of people who thronged the late army general's farm in Beatrice that she endured 32 years of difficult marriage with a man who at times could not sleep at home.
Business executives, politicians from different political movements, diplomats and people in general, braved the hot weather to attend the long-awaited memorial service.
Mujuru died last August in a mysterious inferno that engulfed his farmhouse. Speculation and mystery surrounded his death forcing the family to approach the courts for a public inquiry which ruled that there was no foul play. Mujuru, said despite the love escapades of the general, she never ceased to do her duties as a wife and provided love till he met his heartbreaking death.
"I never stopped to bathe my husband's feet in June even if I knew that the previous night he did not sleep at home and he was not at work," she said about her husband.
"Shefu ndiri kuzvitaurira kuti kana pamba pako kana uine bulldog, kana kuti uine bhuru eBrahman,dzichienda kudhibhi haugone kuritaurira kuti servicer yekwanhingi usaservicer yekwanhingi. (I am a saying that if you have a bull in your kraal, you cannot instruct it which cow to service or which one not to service.) I am saying this with a bleeding heart," she said.
Mujuru said the reason she remained with the late war hero was that she feared a catastrophic confrontation because "pfuti dzairira mumba, tese taatiri masoja (there was a risk that guns would go off because we were all liberation fighters).
She appealed to the family to include her in all businesses as she had no intention of getting married, again.
"I don't want to be a daughter-in-law twice, even if I were in my fertility life. I would not remarry. I don't want my children to have different totems. I will die here; that's where my grave is," she declared.
Mujuru told the gathering that she would not object to children fathered by her late husband out of wedlock as long as DNA tests prove the paternity.
"If there is anywhere where my husband reached, he left a mark in my house. Any child who comes to claim that he belongs to the Mujuru family, he will have to undergo DNA tests," she told the massive crowd which included Prime Minister Morgan Tsvangirai, his deputy Thokozani Khupe, Defence minister Emmerson Mnangagwa, service chiefs, central bank governor Gideon Gono, several cabinet ministers and Zanu PF politburo and central committee members.
Mujuru inferred her husband suspected her of seeing other men and surreptitiously hired intelligence operatives to monitor her movements. This triggered a chuckle from the Central Intelligence Organisation boss Happyton Bonyongwe who laughed off her remark with army commander Phillip Valerio Sibanda.
"What I want you to know is that my husband set CIOs on me for 10 years so that he could know where I was, who I was with. Luckily, he didn't find me at a beer hall, he never caught me with another man, he found me either at school or at church," said an emotional Mujuru.
President Robert Mugabe applauded her for persevering through the tumultuous marriage. Mugabe said the vice president is a role model of resilience despite being married to a man who was not easy and unchallengeable.
"I knew his life, he was a tough husband. I didn't tell you, and this woman deserves to be given an award given to the most patient woman in marriage.
"He never chose, but some women would fight back saying where did you sleep, I heard that you slept with your girlfriends but Mai Mujuru, Mai Mujuru, you are a champion," said Mugabe cheering up the widow.
Speaking at the same event, State Security minister Sydney Sekeramayi said the general was the only person in Zanu PF who could speak out his mind without fear. He said the general at times spoke on controversial issues that most senior members in the party would not dare mention.
"He always spoke his mind out, at times we would ask him why did you say this and would respond 'I have already said it, do you have any problem with what I have said? He was a man who believed in himself," Sekeramayi said.
At the same event, Mugabe was appointed to be patron of a Solomon Mujuru foundation, a trust fund that is expected to preserve the legacy of the late five-star general. Other members of the trust foundation include businessman Peter Lobels, Colonel Tshinga Dube, Mujuru's brother Joel, and daughter Rungano.
General Mujuru died at his farmhouse in Beatrice in August last year under suspicious circumstances although a coroner who held an inquest to find reasons of his death has ruled out foul play.
Yesterday, Mujuru sought to portray a picture consistent with the results by railing into the private media which she said was sensational in the coverage of her late husband.
She told Mugabe that the media had made huge sales by going overboard in the coverage of the late general and jockingly said she wanted to share the "profits" made from the "Mujuru sales". Daily News