Singer 'Potato' arrested for selling pirated CD's
We all know him as 'Potato' real name Edwin Nyaruka, that naughty looking Shona rapping side kick who found fame and fortune singing with Andy Brown in the hit song Mapurisa.
Well potato was arrested on Friday at the Five Avenue Shopping Centre, ironically for selling pirated CD's of foreign movies and other musicians' music. Worse still it's against the background of a growing anti-piracy campaign in Zimbabwe.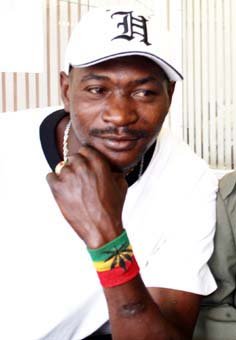 Although initial reports had suggested he had been nabbed for shop lifting, Potato who was still in handcuffs at the Five Avenue police base denied these allegations and set the record straight.
"Mayaz blaz handina kurova shop dambu, igap remadiscs. Haisi horror stereki (No, I did not shoplift, I was just selling discs)," said Potato who was looking dejected.
Potato rose to fame in the 90s as Andy Brown's sidekick. He is popular with his chants on Brown's Mapurisa, Zindoga and his solo projects that put him in the local dancehall hall of fame.
His career was threatened by poor health although he was currently on the road to regaining his status as a top chanter after releasing a gospel album last year and was bound to be roped in by Progress Chipfumo this year.
The non-viability of his genre of music has forced him to venture into several money making schemes. Recently, it was reported that he was now a tout plying the City-Mbare route and he probably realised that there was more money in trading pirated CDs.