Fired from COPAC, General attacks Tsvangirai
Army Brigadier-General Douglas Nyikayaramba who was fired from the constitution-making process, barely a month after calling for Robert Mugabe to remain in office for life, hit back with an astonishing attack on Prime Minister Morgan Tsvangirai.
Nyikayaramba who has a poor educational background, having left school at 14 to fight the liberation war, claimed Tsvangirai is a national security threat rather than a political one and security forces are justified to participate in politics to defend the country.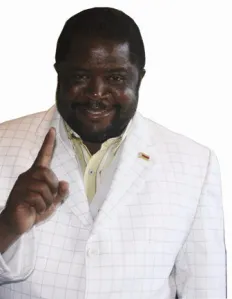 Responding to calls by Tsvangirai at a rally in Mkoba, Gweru, on Sunday that security chiefs should resign and contest for political power, Brig-Gen Nyikayaramba, said the current situation required them to deal with it in uniform.
"What he (Tsvangirai) is saying is nonsense. We are dealing with a national security threat, which can only be dealt with by people in uniform. If it was a normal political environment, one would hope to retire at some point and join politics. However, we can't afford to be in an akimbo when there is this foreign attack," Brig-Gen Nyikayaramba said.
He said the security forces and Zanu-PF were inseparable. Brig-Gen Nyikayaramba said security forces viewed Tsvangirai as a national threat. For this reason, he reiterated that he would not serve under the leadership of anyone who did not have liberation war credentials.
Brig-Gen Nyikayaramba said security forces would do anything possible to make sure President Mugabe remained in power until they felt the threat was over.
"Tsvangirai doesn't pose a political threat in any way in Zimbabwe, but is a major security threat. He takes instructions from foreigners who seek to effect illegal regime change in Zimbabwe.
"This is what has invited the security forces to be involved because we want to ensure we protect our national security interests. When he said Mugabe must go peacefully or else forcefully, was that democratic or constitutional?
"Daydreamers who want to reverse the gains of our liberation struggle will continue daydreaming. They can go to hell . . . they will never rule this country. We cannot keep quiet. We will continue speaking and as the security forces, we will not sit back and watch things going wrong," Brig-Gen Nyikayaramba said.
Brig-Gen Nyikayaramba said security forces were not against the formation of other political parties, but were concerned with some hidden hands in some of the parties that sought to influence leadership change through unconstitutional means.
"If his party was a genuine indigenous political party, we wouldn't be involved. People have to understand that our mandate as security forces is to make sure we protect our sovereignty and the integrity of the nation.
"We had (the late) Abel Muzorewa, (the late) Enock Dumbutshena and other people forming their political parties, but we never had any problem with them. These were indigenous political parties that understood our national interests.
"As the security forces, we should be worried if we see the British and American machinations. They have already announced that they want to destroy Zanu-PF from within, so we should be vigilant. This suggests that they want to re-colonise us," he said.
Brig-Gen Nyikayaramba said President Mugabe would remain in power because replacing a leader in the middle of the struggle was not advisable.
"President Mugabe will only leave office if he sees it fit or dies. No one should be talking about his departure at the moment. He sacrificed a lot for this country. If he was someone else he would have opted to work for those international organisations but he knew that Zimbabweans wanted his guidance.
"We will die for him to make sure he remains in power. We are prepared to stand by our commander-in-chief. Soldiers are not going to sit back and watch, while the foreign forces want to attack us."
He said MDC-T sponsors should realise their party would not achieve the desired goals.
"If people were clever enough they would have de-invested their money in this project because it's not viable. It's almost 11 years now since the MDC-T was formed but it still hasn't delivered anything?" said Brig-Gen Nyikayaramba.
On Sunday, Tsvangirai challenged service chiefs, saying: "If you want politics remove the uniform and we will show you what politics is. It is not guns. Stop intimidating people – convince Zimbabweans to vote for you."
On Tuesday Prime Minister Morgan Tsvangirai continued with his blistering attack on the country's securocrats, describing them as 'a small, parasitic clique' at the helm of institutions violating people's human rights in Zimbabwe.
"The challenge in Zimbabwe is that even after forming the inclusive government, some state organs and state institutions have failed to respect the new dispensation," the Prime Minister said on Wednesday.
He added: "A small clique of top officials in the police, the army and the intelligence services have vowed that they support Robert Mugabe and ZANU PF and will not allow anyone else to govern the country, even if that person wins an election."
Speaking in Barcelona, Spain at the World Justice Forum, the MDC-T leader moved to exonerate the rank and file of the country's armed forces for the crackdown on innocent Zimbabweans. He instead apportioned the blame on the brutal atrocities committed mainly against his supporters on the military elite.
Members of the army, police, militia, war vets and the CIO have been implicated in regular acts of intimidation and violence against ordinary citizens since the formation of the inclusive government in 2009. All these institutions are led by a tight circle of securocrats, who sit on the Joint Operations Command (JOC), now believed to be exercising executive power in the country.
These powerful junta figures include General Constantine Chiwenga, the overall military chief; Augustine Chihuri, the police commissioner-general, General Paradzai Zimondi, the commander of the prison service, Air Marshal Perence Shiri, the commander of the Air Force and Happyton Bonyongwe, the CIO director-general.
All five fought in the ZANLA army during the war against white rule in the 1970s. Each has publicly proclaimed their support for the ruling ZANU PF party. They have also benefited from Mugabe's controversial seizure of white-owned land, with farms and business concessions falling into their hands, allowing them to amass considerable wealth.
"In our case (Zimbabwe), the problem has never been the ordinary soldier or the ordinary police officer. It has always been a small, parasitic clique at the helm of these institutions that is at the forefront of systemic violation of the people's fundamental rights and freedoms," Tsvangirai said.
He castigated the Junta for being overtly partisan and seeking to undermine the civilian authority, adding that everyday they are dabbling in politics, even seeking to influence the date of the next election.
"When the Police Commissioner-General and the Attorney-General state publicly that they support a particular political party in an inclusive government, as in our case, the rule of law becomes perverted and people lose confidence in the institutions they lead," said Tsvangirai.
On Sunday at an MDC rally in Mkoba, Gweru, Tsvangirai challenged the security chiefs to leave the military and join the political ring if they so much wanted to be politicians.
"Some say we don't support Tsvangirai and we will not support him. But let's wait and see what happens after the elections. Why can't we cross the bridge when we get to it?" he said.
The Prime Minister added: "If you want politics, remove the uniform and we will show you what politics is. It is not guns. Stop intimidating people, convince Zimbabweans to vote for you."
MDC chairman for Hertfordshire branch in the UK and retired army colonel, Bernard Matongo told SW Radio Africa that the Prime Minister has every right to remind the Junta to serve all Zimbabweans and not one political party.
"Soldiers swear their allegiance to the state and every soldier must be told upfront and recognise that he or she must follow unquestioningly the orders of the civilian government of Zimbabwe and the laws that it enacts," Matongo said.
He added: "If they cannot, then they must be designated as rogue elements who are not allowed to serve." Additional reporting by SW Radio Africa/ The Herald