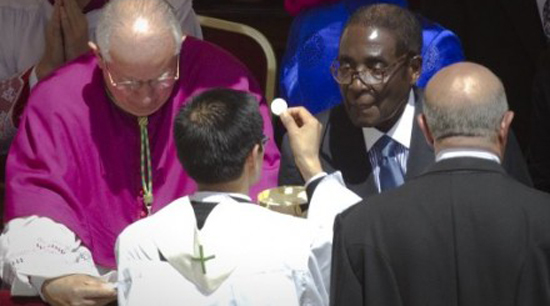 Hardly a few days after lashing out at the Roman Catholic Church in Zimbabwe, tyrant Robert Mugabe had no shame in attending Monday's beatification ceremony for the late Pope John Paul II, at the Vatican in Italy. A few days ago Mugabe attacked the church at a Zion Christian Church (ZCC) conference in Bikita.
"Often Catholic bishops expose that they are not their own men. They are mere puppets of Western countries. I grew up in the Catholic Church but now I am totally frustrated by how these so-called men of God lie. All Catholic bishops are liars, they demonize my party every day," Mugabe ranted.
Despite a targeted travel ban imposed on him by the European Union the 87 year old Mugabe was able to travel to the ceremony led by Pope Benedict XVI because "the Vatican has not broken off diplomatic relations with Zimbabwe and if he (Mugabe) wants to attend and he is invited then he can do so," an official said.
There was fury at the presence of a tyrant who has presided over the murder of thousands of political opponents during his 31 years in power.
Britain's top Roman Catholic Archbishop Vincent Nicholas said after the service: "I personally felt very uncomfortable he was there. His record on human rights is really quite deplorable."
In 2005 at the funeral of Pope John Paul, Mugabe sat next to Britain's Prince Charles. The Prince of Wales was later caught unawares and had to shake Mugabe's hands.
Beatification is a recognition accorded by the Catholic Church of a dead person's entrance into Heaven and capacity to intercede on behalf of individuals who pray in his or her name (intercession of saints).
Beatification is the third of the four steps in the canonization process. A person who is beatified is given the title "Blessed".