By Lance Guma
Serious infighting within ZANU PF is said to be at the centre of leaks claiming Robert Mugabe's wife Grace has been having a secret affair with Reserve Bank Governor Gideon Gono.
The country erupted into frenzied speculation when the South African Sunday Times newspaper ran a story over the weekend claiming Gono had been bedding Mugabe's wife over a 5 year period. The two allegedly met as often as three times a month at Grace's Gushungo Dairy Estate, at expensive hotels in South Africa and on foreign trips to Asia.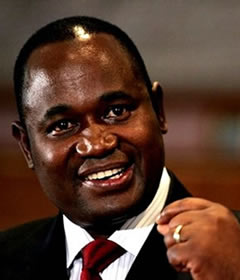 Gono is considered Mugabe's blue-eyed boy and this is what made the story even more sensational. But as more and more details of the story are dissected by journalists and ordinary people alike, the general consensus is that many parts of the story do not add up convincingly.
Speaking to SW Radio Africa, New Zimbabwe.com editor Mduduzi Mathuthu said certain events in the Sunday Times story did not tally with the time frames given. 'Like for instance they said the allegations about Mrs. Mugabe and the Reserve Bank Governor were mentioned to the President on the 26th July (by his ailing sister Sabina), between the hours of 7 and 8pm, I believe.'
'But on the day the President was actually attending an African Union summit in Uganda. And we also know that the said security guard or bodyguard (Cain Chademana), who is supposed to have overheard this conversation, was no longer in the President's service after being discharged on condition of poor health around May or June. Those were two of the most significant flaws in the story.'
In the Sunday Times story it was alleged that Chademana was poisoned because he admitted to Mugabe that he knew about the affair. The allegation was that Mugabe had him poisoned to keep the story quiet. Those who know Chademana however say; 'He had an illness known to all and it was neither poisonous nor mysterious.' The story also said he was a 'decorated veteran of the liberation war' yet he was only 36 when he died, making him too young to have fought in the war.
So how did this story find the legs to walk into a newsroom and get published? We asked Mathuthu and he said there is some suggestion that the governor and Mrs. Mugabe are very close, and this may have fuelled speculation around their relationship. He said because ZANU PF was 'a party that is built on patronage, it's very easy for such a party to crumble over issues of money' suggesting Gono had made enemies in the party as its chief 'money man.'
Several factions within ZANU PF after fighting each other in attempts to eventually take over the leadership from Mugabe should he step down. Depending on which faction Gono has aligned himself with, it is very possible a rival faction is trying to have him ousted by creating mistrust between him and Mugabe. Others are suggesting he knows too much in terms of senior party officials who looted money from the central bank and would like to have him replaced.
Meanwhile the country's notorious Central Intelligence Organization sent four senior officers to meet separately with editors from the privately owned newspapers. Reports say they warned the newspapers not to cover the story of the alleged affair, going as far as threatening 'someone might die' if they repeated the allegations made by the Sunday Times paper.
There was speculation on Wednesday that Gideon Gono's office would be issuing a statement denying the alleged affair with Grace Mugabe. It's also reported he met Mugabe on Monday for lunch to discuss the damaging allegations.