Stephen Muzhingi wins Comrades Marathon
By Rod Knight
DURBAN – Zimbabwe's Stephen Muzhingi predicted on Friday afternoon that he would win yesterday's Comrades Marathon from Pietermaritzburg to Durban. Muzhingi finished in 5:29.00, some six minutes slower than he did last year.
"I had a bad first half of the race today and had to work so much harder for the second half. There was too much pressure on me by the other runners. They crowded me out. I had to run away from them to be able to run my own race," said Muzhingi.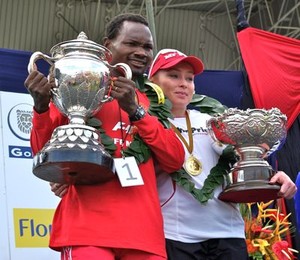 Muzhingi dedicated his win to his wife and son, who was born last year when he first won the Comrades. Second place went to Ludwick Mamabolo, the grandson of well-known runner of the Seventies and Eighties Titus Mamabolo.
"I have running in my blood, and will continue to run," said Mamabolo, who has just completed his chartered accountant's degree. Sergio Motsoengeng, who returned after being caught for cheating in 1999 with his brother and banned from running for five years, took third place yesterday.
Fourth place went to Bongmusa Mthembu, while an old favourite, Fusi Nhlapo, was fifth, followed home by leader for much of the morning, Claude Moshiywa. Then came Petros Sosibo and Peter Molapo with the last gold medal going to Leboka Noto. The Citizen
[newsletter]